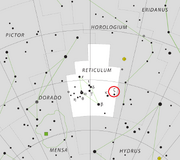 Zeta Reticuli (Zeta Ret, ζ Reticuli, ζ Ret) was a wide binary star system in the southern constellation of Reticulum. From the southern hemisphere, the pair could be seen as a naked eye double star in very dark skies. Based upon parallax measurements, this system was located at a distance of about 39 light-years (12 parsecs) from the Earth. Zeta2 Reticuli was orbited by a circumstellar debris disk. Both stars were solar analogs that shared similar characteristics with the Sun. They belonged to the Zeta Herculis Moving Group of stars that shared a common origin.
Zeta Reticuli was home to Calpamos and its moons, among them Acheron and LV-223, (located in Zeta2 Reticuli) and KG-348 (located in the "Zeta Reticuli region").
Zeta Reticuli has also been featured in other works of fiction, including Forty Thousand in Gehenna, Space: Above and Beyond, Silicon Embrace, Seven Days, Yu-Gi-Oh! and Space Raiders.[1]
It was also supposedly where the UFO involved in the Hill Abduction (also known as the Zeta Reticuli Incident) came from.[2]
Appearances
Edit
External links
Edit
References
Edit