Ad blocker interference detected!
Wikia is a free-to-use site that makes money from advertising. We have a modified experience for viewers using ad blockers

Wikia is not accessible if you've made further modifications. Remove the custom ad blocker rule(s) and the page will load as expected.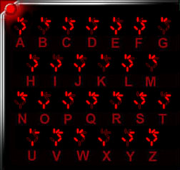 The Yautja language is a complex verbal and written language used by the Yautja. The Yautja language contains many peculiarities, such as Object Verb Subject (OVS) word order. The language has never been heard on screen; though at some point in Predator and Predator 2, the Yautja spoke minimal English (albeit responsively in a mocking manner). The following are Yautja words and their (rough) English translation.
Not well-developed in the films, this language was created by Steve Perry for the non-canon novels.

Yautja → English
Edit
agaj'ya - Realm
admeha - Meat
bhu'ja - Ghost/Soul/Spirit
bpi-de - End
ch'hkt-a – Nervous/Hyper-active/Excited
dhi'rauta - Cunning
dto - Forest/Jungle/Woodland
gahn'tha-cte - Ruthless
gkei'moun - Easy/Simple
guan - Night
h'chak - Mercy
h'dlak - Fear
h'dui'se - Smell/Scent/Odor/Musk
halkrath - Shadow
ikthya-de - Umbra
ju'dha - Water
kiande - Hard
kehrite - Training Hall/Dojo
ki'cte - Enough
kjuhte - Void
kwei - Sly
l'ulij-bpe - Mad
lar'ja - Dark
luar-ke - Moon
m-di- No
m-di mar'ct - No killing
m-di h'chak - No mercy
m-di h'dlak - No fear
mi - Fuel
n'ithya - Earth/Ground/Dirt/Land
nanku - Alive
nok - Unit of measurement (equivalent to 13 inches)
nracha-dte - Relentless
ooman - Men/Human
pyode - Soft
r'ka - Xenomorph
s'yuit-de - Pathetic
setg'in - Deadly
te'dqi - Secretion
than-guan - Midnight
thar'n-dha - Strength
thei-de - Death
thwei - Blood
ui'stbi - Abomination
vayuh'ta - Air
yeyin - Brave
yin'tekai - Honor
z'skuy-de - Convultions/Spasm
zabin - Insect
dtai'k-dte sa-de nav'g-kon dtain'aun bpide/Nau'gkon dtain'aun bpi-de - The fight that begun would not end until the end
gkaun-yte - Hello
gkei'moun - sheet
jkiu - sheet
ki'sei - I agree/I understand
n'dhi-ja - Farewell/Good bye
n'jauka - Welcome
na'tauk - Salute
payas leitjin-de Hma'mi'de - Remember the gods' practice
sei-i - Yes/Affirmative
thar'n-da s' yin'tekai - Strength and honor
thin-de le'hsaun 'aloun'myin-de s' bpi-de gka-de hou-depaya - Learn the gift of all sights or finish the dance of the fallen gods
Actions and Events
Edit
chi'ytei - Embrace/Hug
chiva - Trial
dha-viath - Disaster
dtai'kai'-dte - Battle/Fight
gry'sui-bpe - Stampede
ikthala - Cataclysm
ka'Torag-na - Lurking
kv'var - Hunt
n'ritja - Dance
d'lex - Super-strong/Metallic/Crystalline material
dekna - Eye/Eyes/Eyeball
gkinmara - Sensor/Detector/Camera
kiloun - Wood
syra'yte -Head
th'syra - Skull
tjau'ke - A type of rock made of compressed dust
tyioe-ti - Escape pod
akrei-non - Bombs/Explosives
al'Nagara - Longsword
awu'asa - Armor
bhrak-chei - Speargun/Harpoon
chakt-ra - Hunter's Disc
dah'kte - Wristblades
dah'Nagara - Shortsword
ki'cti-pa - Spear/Combistick/Lance
kv'Vurj-de - Energy Flechette
sivk'va-tai - Plasmacaster
taun'dcha - Pistol/Firearm/Sidearm/Gun
t'gou u'linja - Netgun
People Definitions
Edit
jehdin - Individual/One
mei'hswei - Brother
mei-jadhi - Sister
hulij-bpe - Crazy
hult'ah - Observer/Watcher
vor'mekta - Stalker
kv'var-de - Hunter
ic'jit - Bad Blood
sain'ja - Warrior
p'kya'uha - Sniper
nrak'ytara - Guardian
n'yaka-de - Master
mar'cte - Killer
kujhade - Destroyer
u'darahje - Abomination
kha'bj-te - Maniac/Reckless
dteinou - Messenger
Bakuub - Straight Spear
Cetanu - The Black Hunter (God of Death)
Dachande - Different Knife
Dahdtoudi - Little Knife
Guan-thwei - Nightblood
Paya - God/Warrior
Yeyinde - Brave One
Expressions
Edit
c'nlip - Intoxicating beverage
dai-shui - Yautja musk
dhi'ki-de - The Long Sleep (Death)/Unconscious/Coma
h'ko (M-di) - No/Negative
ka'rik'na - The Summoning (of other Yautja)
kiande amedha - Hard meat (Xenomorphs)
lou-dte kale - Child-maker (female)
mesh'in'ga - The Battle Dreamtime
n'dui'se - Yautja scent
nain-de - Type of hunt
nain-desintje-de - The Pure Win (absolute victory)
nan-de than-gaun - "Kiss Of Midnight"/No Mercy
pyode amedha - Soft meat (humans)
tarei hsan - Unworthy opponent/Bug
tjau'ke - Compressed dust
u'sl-kwe - Final rest (death)
z'skvy-de - Birth of Xenomorph from host (Chestburster)
zazin - Completely centred/Within oneself
Body Language
Edit
back arched and mandibles flared - Rage
head and eyes lowered - Submission
head cocked to one side - Curiosity
lower mandibles spread - Aggression
push with one hand at another's shoulder - Challenge
placing one hand on another's shoulder, and shaking - Greeting
mandibles click together - Regard
mandibles flared - Anger
arm raised up diagonally - Guarded
head bowed - mourning/grief
mandibles spread, eyes wide - fear
rapid mandible clicking - Deep Amusement/Laughing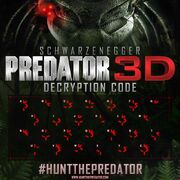 The Yautja language was used as the "Decryption Codes" for the #HuntthePredator promotion for Predator 3D.
In reality, the chances of the Yautja alphabet exactly aligning with the English alphabet, as Perry proposes, (i.e. each symbol corresponds to a letter in the English alphabet) are practically infinitesimal. Even on Earth, many alphabets used by mankind do not align. For example, the Cyrillic alphabet does not directly correspond with English, while the Chinese language uses a non-alphabetic script, with an alphabet only for supplementary use. It would be almost inconceivable for an extraterrestrial race to use a language that could be so easily and directly translated into English.
In the comic Aliens vs. Predator: Three World War, it is indicated that the Predators also possess a sign language type of communication that can be taught to humans.
External links
Edit