Home
Talk

96
2,245pages on
this wiki
Welcome to Xenopedia,
The

vs.

Wiki


BUILDING BETTER WORLDS SINCE
5. 26. 06


Welcome, <insert name here>!
Xenopedia is a comprehensive collaborative database documenting all information
on the Alien, Predator and Alien vs. Predator universe, including Prometheus.
Users are currently editing 2,245 articles started since May 26, 2006, and
you can help!
Ready to contribute? Read this first!

ATTENTION: THIS WIKI CONTAINS UNMARKED SPOILERS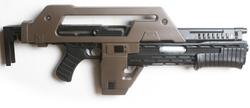 The
M41A Pulse Rifle
is an American-made assault carbine chambered for
10×24mm Caseless
ammunition. It was employed by the
United States Colonial Marine Corps
and the
United States Army
as their primary infantry weapon during the late 22nd century. Through its use with the USCM, it saw regular use in various engagements with the
Xenomorph
and
Yautja
species.
Are you excited for Alien: Isolation?
Create blog post
Recent Blogs
Planet of the Vampires (Italian: Terrore nello spazio) is a 1965 Italian/Spanish science fiction horror  film directed by Mario Bava.Two huge interpl…

Read more >
See more >
Official Friends of Xenopedia
WHAT'S THE STORY MOTHER ?
The Motion Tracker
Credit for most of The Motion Tracker (named after the news section in the UK magazine Aliens) information goes to AliensCollection.com, AvPGalaxy and The Hive.

August 29, 3014
August 28, 2014
August 27, 2014
News Resurrection 2
May 5, 2014
May 3, 2014
April 27, 2014
April 16, 2014
The Motion Tracker will be returning shortly...
March 15, 2014
March 8, 2014
March 2, 2014
February 22, 2014
February 18, 2014
February 16, 2014
February 15, 2014
Feburary 9, 2014
February 8, 2014
February 5, 2014
New calendar
The upcoming calendar Alien Quadrilogy 2015 Wall Calendar available for pre-order on Amazon here!
February 2, 2014
February 1, 2014
January 28, 2014
Alien: Out of the Shadows is out! A few Xenopedia members already have the book, so expect unmarked spoilers in articles related to it.
January 26, 2014
January 24, 2014
Alien Week
January 20, 2014
January 13, 2014
January 8, 2014
The offical website can be found here and in the External links section in the top navigation.
Ain't It Cool article complete with gameplay footage, behind the scenes videos, press releases, and more here
Over 18 videos (sorta) to check out on the official Alien: Isolation YouTube channel here.
"Origins" developer diary here.
Kotaku takes a look at the game here.
Metro UK interviews the team here.
The UK's Playstation Access interviews the design team here.
January 7, 2014
January 6, 2014
January 5, 2014
Film School Rejects takes a look at some of the story points explored and explained in the original Prometheus script here!
January 1, 2014
New Year's
December 30, 3013
December 29, 2013
What to look forward to in 2014
December 27, 2013
Predator at Monsters in Motion
December 23, 2013
New Forum
Check out Xenopedia's new Forum!
December 20, 2013
AVP theme park attraction
December 19, 2013
2,000 articles!
Xenopedia has hit over 2,000 articles! Thank you to all contributors!
December 17, 2013
Predator 3D
December 14, 2013
Hot Toys new Predator 2 Elder Predator
Hot Toys continues their astonishing updates to previous classics, and their Elder Predator from Predator 2 is no exception. Click here for preordering information at Big Bad Toy Store.
Alien: Isolation screenshots
Four screenshots from the upcoming game can be found at AvP Galaxy here!
New ADI video
AVP Alien Queen On Set here!
December 11, 2013
New Alien: Isolation images!
Artwork for the upcoming game Alien: Isolation has been discovered by NeoGAF! The first image looks like the box art for the game. Presumably, the person in it is Amanda Ripley in what appears to be the space suit from Alien. Also note an Alien reflected on the visor.
The second image appears to be the space station where the game is supposed to be set.
Alien ReAction figure BLACK packaging (?) and video review
Black packaging? More here!
December 10, 2013
News Resurrection
November 29, 2013
AVP Miniatures Kickstarter Successful
The AVP Miniatures Kickstarter was successful raising £379,141 of their £35,000 goal and unlocking all Stretch Goals!
November 28, 2013
AVP Miniatures Kickstarter
Only a few minutes left here!
Novmeber 23, 2013
Vintage Alien Toy Advertising
Bing News search
The Dragon in Alien3 is by far the deadliest Xenomorph individual seen in the film series, claiming 15 kills (not counting its host) during the course of the film, plus an additional two in the extended Assembly Cut. Even discounting the Assembly Cut, the Dragon killed more than three times as many people as the next deadliest Xenomorph, the Alien from Alien.
In William Gibson's original script for Alien3, Hicks and Bishop became the series' main characters, and they, along with another team of Colonial Marines, became involved in a Xenomorph outbreak on a massive space station, where the Aliens are being bred and studied for use as a bio-weapon. The film was to end with a cliffhanger setting up a fourth movie that would take place on Earth.
Get the My Wikia App!
With Wikia's official flagship app, My Wikia, you can search for communities and add them to your home screen and read constantly evolving, deep content in a customizable format.
DOWNLOAD NOW FOR FREE!