Xenomorph blood
Talk

0
1,711pages on
this wiki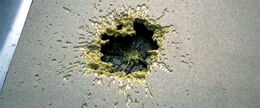 Xenomorph blood
is a highly acidic substance that can burn through virtually any material in short order. Using potent acid for blood is the
Xenomorph
's primary defense mechanism, and one of the species' most recognizable physical attributes.
Xenomorph acidic blood is primarily a passive defense mechanism; while it does not pose a threat directly, killing or harming an Alien with any attack that breaks the skin will cause the acid to spill, potentially harming the attacker or, as would be the case on a starship, breaching a vessel's hull.[1] This makes killing even a single Xenomorph a difficult proposition if only conventional projectile weapons are available, especially when encountered on board a starship.
Despite its typically passive nature, certain castes of Xenomorph have evolved to use their acid blood in a more offensive manner. Warriors, for example, have developed a highly pressurised bloodstream that can cause them to physically explode if sufficiently damaged, showering the surrounding area in acid.[2] Boilers intentionally use a similar process as a means of attack, rushing targets before suicidally rupturing their bodies and fatally drenching their victims in blood.[3] Drones have the ability to spit their blood at targets, although the quantity is small and consequently this means of attack is normally used to wound and disable targets rather than kill them.[4][5] The spitting ability is used more aggressively by Praetorians, which are capable of spitting lethal quantities of their blood significant distances, giving them a dangerous ranged attack other Xenomorphs do not possess.[6]
Xenomorphs also use their blood in more tactical ways. Facehuggers have the ability to secrete small quantities of their blood in order to burn through obstructions and gain access to hosts.[1][4] Similarly, fully grown Xenomorphs are shown to have an understanding of their blood's properties beyond simply spitting it at victims, and have been known to deliberately mutilate or even kill each other in order to use these properties to overcome obstacles.[5][7]
Composition
Edit
Xenomorph blood is a molecular acid.[2] While incredibly potent, it quickly oxidises in air and is subsequently rendered neutral.[1] It is typically a dull yellow in color, occasionally with hints of green. While generally accepted as the creature's blood (and typically described as such), some have suggested that, at least at the Facehugger stage, the acid is not blood but rather a defensive fluid maintained under pressure between a double layer of skin.[8][9]
It has been theorized that the Xenomorph's acid blood could be some type of "hydrosulfuric" or hydrochloric acid composition due to its corrosiveness and its conspicuously toxic effects on living human tissue. It has also been theorized that the Aliens are immune to their own acidic blood due to an endobiological build-up, similar to the human stomach's ability to protect itself from its own digestive fluids.[10] This idea has been pushed further with the suggestion that the Xenomorph's protection system against its own toxic hydrofluoric acid is essentially a bio-organically produced Teflon insulation within its body, since polytetrafluoroethylene (PTFE, or Teflon), being a fluorine-based compound, does not react with hydrofluoric acid.[10] In the film Alien vs. Predator this is shown to be the case, as a Predator uses Xenomorph chitin to make armor for Alexa that protects her from Alien blood.[7]
Defense against Xenomorph blood
Edit
While Xenomorph acid is notoriously corrosive, it seems there are at least some materials that can resist it. Most notably, much Predator technology is constructed of metals that are immune to the effects of Xenomorph blood.[7][11] Predator blood itself is also shown to be able to partially neutralize the acidity of Alien blood.[12] However, human technology in this regard remains in its infancy. While basic systems have been prototyped (including the Apesuit acid-proof body armor) mankind has yet to develop truly effective methods for negating the corrosive effects of Alien blood.
References
Edit
↑ 1.0 1.1 1.2 Dan O'Bannon, Ronald Shusett (writers) and Ridley Scott (director). Alien [DVD]. 20th Century Fox.
↑ 2.0 2.1 James Cameron (writer and director). Aliens [DVD]. 20th Century Fox.
↑  Aliens: Colonial Marines [Microsoft Windows, PlayStation 3, Xbox 360]. Gearbox Software.
↑ 4.0 4.1 Vincent Ward (writer) and David Fincher (director). Alien3 [DVD]. 20th Century Fox.
↑ 5.0 5.1 Joss Whedon (writer) and Jean-Pierre Jeunet. Alien Resurrection [DVD]. 20th Century Fox.
↑  Aliens vs. Predator [Microsoft Windows, PlayStation 3, Xbox 360]. Rebellion.
↑ 7.0 7.1 7.2 Paul W.S. Anderson (writer and director). Alien vs. Predator [DVD]. 20th Century Fox.
↑ Alan Dean Foster (1979). Alien novelization. Warner Books, Inc., 95.

 

↑ Alan Dean Foster (1979). Alien novelization. Warner Books, Inc., 103.

 

↑ 10.0 10.1 Brothers Strause, Ronald Shusett. Science of the Alien [DVD]. 20th Century Fox.
↑ Dan O'Bannon, Ronald Shusett, Jim Thomas, John Thomas (writers) and The Brothers Strause (directors). Aliens vs. Predator: Requiem [DVD]. 20th Century Fox.
↑ Perry, Steve & Perry, Stephanie (1994). Aliens vs Predator: Prey, 259. ISBN 0-553-56555-9.