Witchblade/Aliens/Darkness/Predator: Overkill
Talk

0
2,567pages on
this wiki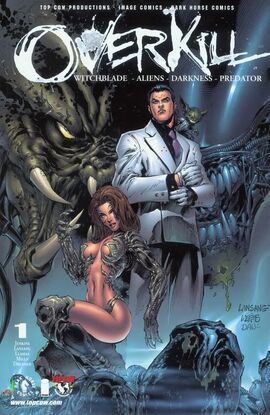 | | |
| --- | --- |
| | This article covers a licensed crossover event that has been deemed non-canon by either the author or the Alien vs. Predator licensees, and thus should not be taken as a part of the "real" Alien vs. Predator universe. |
Witchblade/Aliens/Darkness/Predator: Overkill (aka Aliens vs. Predator/Witchblade/Darkness: Overkill) was a two-issue limited comic book series published by Dark Horse Comics and Top Cow/Image Comics in November 1999. The story was written by Paul Jenkins, drawn by Clarence Lansang and inked by Victor Llamas.
Overkill was followed by the sequel story Witchblade/Aliens/Darkness/Predator: Mindhunter from Dec. 2000-Jan. 2001.
In the series of Dark Horse cross-over comics, Witchblade/Aliens/Darkness/Predator: Overkill was most immediately followed by Aliens versus Predator versus The Terminator (April–July 2000).
We are pleased to announce TOP COW and DARKHORSE'S first cross-over ever! The first in this series is a story written by PAUL JENKINS (Witchblade), which he promises to be loaded with blood and gore will be penciled by CLARENCE LANSANG (Darkness). With WITCHBLADE, the DARKNESS, ALIENS and the PREDATOR involved, the story couldn't be any other way.
Plot (Warning: Spoilers)
Edit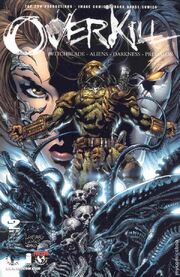 Official description of individual issues:
Sara Pezzini's hometown New York City is being visited by some very unexpected guests. It seems Aliens may be looking for a place to hatch their eggs. Jackie Estacado also seems to be looking for something, although what it is, we aren't quite sure of yet. With such powerful forces at the same location, the Predator is sure to be on the hunt for one or all of them as prey.
It's every man, woman and Darkling for themselves as Detective Pezzini and Jackie Estacado confront the mysterious alien force stalking them through the city. The tension grows as high as the body count as Sara and Jackie try to reign in the Predator and its Alien sidekick before it can rip out their respective skulls and put them on the mantelpiece. Join the Witchblade and the Darkness in a modern day retelling of the battle at Rourke's Drift! This is a comic to be hidden from granny, unless you're planning on cleaning up on the insurance.
Behind the Scenes
Edit
Series writer Paul Jenkins was a veteran writer of The Darkness for Top Cow, though his perhaps best known for his varied work at Marvel Comics.
Cover artist Dwayne Turner is well known for his work with other mainstream comics companies and characters. He co-created the super team Sovereign 7 with popular X-Men (and Aliens/Predator: Deadliest of the Species) writer Chris Claremont in the 1990s.
The character Witchblade also had her own series which ran on the TNT Network for two seasons from 2001-2002.