Witchblade/Aliens/Darkness/Predator: Mindhunter
Talk

0
2,570pages on
this wiki
| | |
| --- | --- |
| | This article covers a licensed crossover event that has been deemed non-canon by either the author or the Alien vs. Predator licensees, and thus should not be taken as a part of the "real" Alien vs. Predator universe. |
Witchblade/Aliens/Darkness/Predator: Mindhunter (aka Aliens vs. Predator/Witchblade/Darkness: Mindhunter) was a three-issue limited comic book series published by Dark Horse Comics and Top Cow/Image Comics in Dec. 2000-Jan. 2001 . The story was written by David Quinn, drawn by Mel Rubi, inked by Mike Perkins, lettered by Clem Robins and colored by Dan Jackson. The series featured covers by artist Dwayne Turner and it was edited by Philip Amara. An alternate version of issue #2 was also released featuring a cover by artist Tony Daniel.
The story was collected in a tradepaperback version released in August 2001 featuring a new cover by artist Eric Kohler.
Mindhunter was the sequel story to Witchblade/Aliens/Darkness/Predator: Overkill from November 1999.
In the series of Dark Horse cross-over comics, Witchblade/Aliens/Darkness/Predator: Mindhunter was most immediately followed by JLA versus Predator (February 2001).
Plot (Warning: Spoilers)
Edit
Official description of individual issues:
Jackie Estacado, possessor of the mysterious malevolent force known as the Darkness, and Sara Pezzini, wielder of the Witchblade, survived their first bloody skirmish with Aliens and Predators. Now begins an even stranger, more horrific nightmare as the war continues in a way our Earthbound heroes have never imagined. To survive, they must cut through a shroud of illusory violence and bottomless time. If they can't find a way to prevail in this wild, new arena, they will be responsible for the end of human life on Earth! Written by David Quinn (Dr. Strange) and pencilled by Aliens vs. Predator vs. The Terminator's Mel Rubi! Produced in cooperation with Top Cow.
Jackie Estacado and Sara Pezzini, a team already on unsteady ground, find themselves pushed beyond their limits. Each with hunting and survival skills honed beyond that of a normal human, the mob hitman and urban detective are unprepared for the challenge they now face. Ripping through the mysterious false reality imposed upon them (issue #1), they discover that they've been abducted and imprisoned on a huge, living spacecraft high in Earth orbit, an ever-changing prison ship controlled by the mind of a madman. Their fellow inmates? Swarms of Aliens, legions of Predators, and acidic fear. It's a grudge match in floating hell!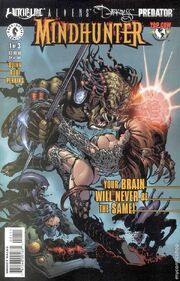 It's the final gauntlet of the ultimate big budget action movie on paper! Jackie (The Darkness) Estacado and Sara (Witchblade) Pezzini have unravelled the mystery of the Mindhunt—but now they must make a last stand for all humanity. They're trapped aboard a shuttlecraft hurtling toward Earth, but they are not alone. Fighting by their side is one mean mutha of a Predator with the power of the Witchblade! It'll take all three "heroes" to stop the unspeakable horror of an Alien-Darkness hybrid!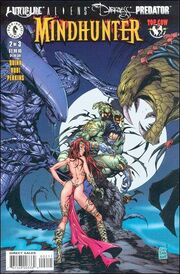 Behind the Scenes
Edit
Mindhunter artist Mel Rubi was also artist on the franchises-wide Xenogenesis cross-over event which ran through all three of the Aliens, Predator and AVP comics lines in 1999.
Cover artist Dwayne Turner is well known for his work with other mainstream comics companies and characters. In the 1990s, he co-created the super team Sovereign 7 with popular X-men (and Aliens/Predator: Deadliest of the Species) writer Chris Claremont.
The character Witchblade also had her own series which ran on the TNT Network for two seasons from 2001-2002.
External links
Edit
Online preview of the first few pages of the story on the Dark Horse Comics website.