William Hudson
Talk

2
1,711pages on
this wiki
William Hudson
Biographical information
Rank

Private First Class
Squad Leader

Serial number

A08/TQ1.0.41776E3

Physical description
Species
Gender

Male

Hair color

Brown

Eye color

Blue

Chronological and political information
Affiliation
Status
Portrayed by

Bill Paxton
Andrew Bowen[3]

  [Source]
Private First Class William Hudson was a combat technician in the United States Colonial Marine Corps. He was part of the combat unit deployed to LV-426 aboard the USS Sulaco in 2179, to investigate the sudden loss of contact with the colony of Hadley's Hope. He was subsequently involved in combating the Xenomorph infestation at the colony.
Hudson was part of First Squad's gun team, along with Private Vasquez.[2] He was also the squad's leader, although Sergeant Apone assumed nominal command for the initial operation at Hadley's Hope. Hudson was also designated First Squad's motion tracker operator.[2] He was among the last to perish in the incident, eventually becoming host for a Xenomorph Chestburster. His body was later found by Marines from the USS Sephora during their own investigation of the colony.
Biography
Edit
Mission to LV-426
Edit
The mission to LV-426 was suppsoed to be one of Hudson's last — he had only 4 weeks left on his deployment, and as such was due to leave the Marines in short order.[2] As soon as he emerged from hypersleep he began aggravating Sergeant Apone with his sarcastic comments. Following this, he moved on to Private Vasquez, inquiring (due to her muscular physique and masculine haircut) whether she had ever been mistaken for a man; she promptly shot him down by asking whether he had the same problem.
During breakfast, Hudson acted as ringleader in the Marines' attempts to get Bishop to perform his five finger fillet knife trick. Bishop eventually caved, although Private Drake "volunteered" Hudson for the trick by restraining him and pinning his hand to the table. Hudson could only watch, terrified, as Bishop performed the trick on him at blurring speed.
During the briefing on what they might encounter at Hadley's Hope, Hudson again focussed on aggravating others, ridiculing Lieutenant Gorman for confusing him with Corporal Hicks and mocking Vasquez for being an illegal immigrant. Following the briefing, Hudson managed to incur the wrath of Apone once more by asking for a way out of "this chickenshit outfit". During the drop, Hudson's sarcasm continued as he attempted to get his fellow Marines fired up and in good spirits ahead of a mission that most of them believed would be a waste of time. Hudson also mocked Ripley's insecurity, bragging that the team would protect her with their advanced weaponry and firepower.[4]
Investigating the colony
Edit
After landing at the colony, Hudson bypassed the door into the main admin building before helping to clear the ground floor with the rest of First Squad. After mistakenly identifying a pet hamster as a threat on his motion tracker,[4] Hudson and Vasquez discovered the first signs of Xenomorph presence at the colony, coming across several large holes burned through the building's sub-levels by Xenomorph blood. With the building secure, Hudson began accessing the colony's central computer in the operations room, attempting to locate the missing colonists through their PDTs. Before long he located the signals, gathered in the Atmosphere Processor, and the Marines set off to investigate.
Upon discovering the Hive within the structure, Gorman ordered all rifles to be slung to prevent gunfire damaging the Processors reactor; Hudson was among the more vocal objectors. His protest was proven to be justified when the killing of a Chestburster woke the entire Hive, with Hudson picking up the movement on his motion tracker. The Marines were soon set upon by a swarm of Warriors, one of which attempted to drag Hudson away before Hicks intervened, although Hudson was lightly wounded.[2] Upon returning to the APC Hudson was further injured when a Xenomorph's acid blood burned his arm as he attempted to close the door.
Ambush aftermath
Edit
Following the disastrous ambush, Hudson opposed any attempts at rescuing the Marines who had been taken alive, an opinion backed up by Ripley, who insisted they were already being cocooned to be hosts for more Xenomorphs. After a plan to escape the moon and destroy the colony with a nuclear strike was undone by the loss of their dropship Bug Stomper, Hudson finally lost his cool, freaking out and insisting they were finished. The Marines salvaged whet they could from the wreckage and returned to the operations center.
Despite Hudson's continued hysteria over the desperate situation they faced, Ripley managed to calm him to the point where he was able to assist in setting up Sentry Guns and other defenses inside the colony. When Ripley and Newt, the only surviving colonist, were attacked by Facehuggers in the med lab, Hudson personally saved Newt. When Burke was revealed as the culprit, Hudson was all in favour of executing him for his treason.
Final showdown
Edit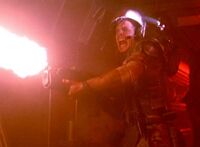 Before the Marines could hand out Burke's punishment the Xenomorphs cut the power to the building. Hudson briefly patrolled the corridors with Vasquez, but when they realized they were up against a huge force they fell back to the operations center and sealed the doors. The Warriors entered through the ceiling and attacked, and while Hudson managed to hold them off virtually single-handed for some time, another Warrior eventually pulled the floor out from beneath him. Despite trying to shoot the creature and Hicks' attempts to save him, he was dragged away. Hudson was taken to the sewers beneath the colony complex where he was cocooned and impregnated with a Chestburster;
[3]
the Chestburster later killed him when it reached maturity and birthed. Hudson's corpse was found 17 weeks later by Marines from the
USS Sephora
.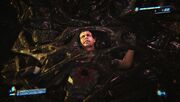 Personality and Traits
Edit
Hudson was cocky and loud, determined to have the last word in any situation, whether he be cracking a joke or losing his cool over the desperate events on LV-426. This behavior often got him into verbal confrontations, both with his superiors and his peers. Prior to the disastrous ambush inside the Hadley's Hope Atmosphere Processor, he was supremely confident of the Marines' abilities, citing their advanced weaponry and "badass" constitution as evidence that they could not fail but overcome anything they discovered at the colony. His boastful claims that he and his fellow Marines would protect Ripley turned out to be tinged with irony, as while Hudson lost his cool when the situation deteriorated, Ripley remained calm and level-headed during the incident.
The fact that Hudson was so close to the end of his deployment likely contributed to his breakdown. However, despite his increasingly hysterical behavior, he ultimately regained his focus (if not his composure) when the Xenomorphs launched their assault on the operations center, valiantly fighting the creatures off with a ferocity not matched by any of the other Marines. He also displayed moments of ingenuity, such as when he correctly predicted that the Xenomorphs may operate a society similar to that of ants, with a single fertile female in charge of the entire Hive.[4]
Equipment
Edit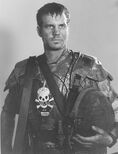 Hudson was outfitted with standard issue M10 Pattern Ballistic Armor for protection and a TNR Shoulder Lamp attachment for illumination; he had notably customized his armor with a skull and crossbones design painted onto the chest plate and the name "Louise" over his heart (a reference to Bill Paxton's real-life wife Louise Newbury).[5] He has also painted the phrase "Contents under pressure, do not puncture" on his armor's back plate, and humorously added a can opener to his crotch protection.[5] As the covering element of First Squad's gun team, Hudson carried the standard assault carbine of the Corps, the M41A Pulse Rifle as well as a motion tracker.
As a combat technician, Hudson also carried a field technician kit containing various tools, lock picks and electronic devices, including a hacking computer allowing him to bypass sealed doors and systems.[6]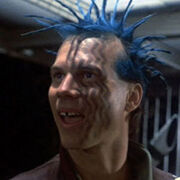 Bill Paxton also appeared in The Terminator as "Punk Leader" (also directed by Aliens director James Cameron), a miscellaneous character who is killed by the titular Terminator. This, combined with his deaths in Aliens and Predator 2, makes Paxton one of two actors who have been killed on-screen by an Alien, a Predator and a Terminator, a dubious honor he shares with fellow Aliens actor Lance Henriksen.
Hudson's exasperated rant after the dropship crashes has been lampooned several times over the years. His famous "Game over, man! Game over!" line was ad-libbed by Paxton.
Hudson's "Stop your grinnin' and drop your linen!" line is a quote from the AC/DC song "Shake a Leg".
Hudson has an action figure made in the Kenner line of Alien toys in the early 1990s in his likeness.
Hudson will also be released in action figure form by NECA along with Hicks and a Warrior Alien in Spring 2013.
Hudson makes an appearance in the level "The Raven" in Aliens: Colonial Marines, cocooned to wall in the sewers beneath Hadley's Hope with a gaping hole in his chest, showing that he was killed by a Chestburster. His customized Pulse Rifle can be found later in the same level as a "legendary weapon". Strangely, his body shows no signs of decomposing, despite having been cocooned for 17 weeks; this is likely just a conceit on the part of the developers for dramatic effect.
Although seen dead in the single player campaign of Aliens: Colonial Marines, Hudson is a bonus skin in the game's multiplayer mode. In this appearance he is voiced by actor Andrew Bowen.
Appearances
Edit
References
Edit
↑ 2.0 2.1 2.2 2.3 2.4 James Cameron (writer and director). Aliens [DVD]. 20th Century Fox.
↑ 3.0 3.1  Aliens: Colonial Marines [Microsoft Windows, PlayStation 3, Xbox 360]. Gearbox Software.
↑ 4.0 4.1 4.2 James Cameron (writer and director). Aliens Special Edition [DVD]. 20th Century Fox.
↑ 5.0 5.1 James Cameron, Gale Anne Hurd, Gordon Carroll, David Giler, Walter Hill, Stan Winston. Superior Firepower: The Making of 'Aliens' [DVD]. 20th Century Fox.
↑ "Weyland-Yutani Archives". Retrieved on 2013-04-18.