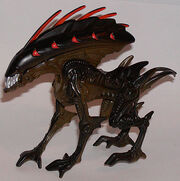 The Wild Boar Alien is a part of the Aliens toy line produced by Kenner Products. Is supposed to be the product of the impregnation of a wild boar by a facehugger. It has a similar anatomy to a Dog Alien, but with a bigger head and teeth, and has no tail. In replacement, this creature has 5 folding spikes in the head, that it uses as weapons.
Ad blocker interference detected!
Wikia is a free-to-use site that makes money from advertising. We have a modified experience for viewers using ad blockers

Wikia is not accessible if you've made further modifications. Remove the custom ad blocker rule(s) and the page will load as expected.