"It's a data stream from PS-12."
"Where is she?"
"Right above Sector 14"
―Two scientists (from Alien vs. Predator)
Weyland Industries Satellite PS-12, nicknamed "Big Bird",[1] was a Weyland Industries satellite in low Earth orbit. On October 3, 2004, PS-12 was above Sector 14 when it detected a heat bloom on Bouvet Island, information that it transmitted to Receiving Station #6-D.
Behind the scenes
Edit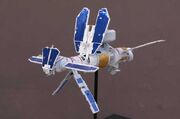 A maquette of PS-12 was made in a day by Alien vs. Predator senior model maker[2] (and previously Aliens model maker[3] and later Prometheus prop maker and set dresser)[4] John Lee.[2]
The eye of PS-12 notably bears similarities to the famous camera eye of HAL 9000, the computer antagonist of 2001: A Space Odyssey. At the start of Alien vs. Predator, PS-12 is intentionally shot to resemble a Queen, specifically the backlit shots that first reveal the First Acheron Queen in Aliens.
The morse code picked up by PS-12 at the beginning of the film spells out the words, "Whoever wins, we lose". This is, of course, the tagline used to promote the film.
Appearances
Edit
References
Edit
↑ Marc Cerasini. Alien vs. Predator, p. 21 (2004), HarperEntertainment.
Ad blocker interference detected!
Wikia is a free-to-use site that makes money from advertising. We have a modified experience for viewers using ad blockers

Wikia is not accessible if you've made further modifications. Remove the custom ad blocker rule(s) and the page will load as expected.