Warrior (Aliens versus Predator)
Talk

6
"AVAILABLE DATA INSUFFICIENT"

This article is a stub or needs expansion. Help Xenopedia by expanding it.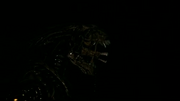 An unnamed Warrior is the playable Xenomorph character in the 1999 video game Aliens versus Predator.
Information
Edit
It woke up after a series of gunfires located in the lower area of an Alien temple. The Warrior fought its way through United States Colonial Marines and finally reached Gateway Station, where it battled more Colonial Marines and two Yautja. The Xenomorph reached an a ship headed for Earth.