Vincent Distephano
Talk

2
1,711pages on
this wiki
"DiStephano, take the weapons."
"Begging your pardon, sir, but FUCK YOU!"
―Dr. Wren and DiStephano (from Alien Resurrection)
Vincent Distephano
Biographical information
Physical description
Species
Gender

Male

Hair color

Black

Eye color

Brown

Chronological and political information
Affiliation
Status
Portrayed by

  [Source]
Vincent Distephano was one of the security officers aboard the United Systems Military vessel USM Auriga.
Biography
Edit
Arresting the "Terrorists"
Edit
He was one of the guards at hand when General Perez, the commanding officer of the Auriga, ordered he and the other guards to arrest the crew of The Betty. This sparked a conflict between the mercenaries and the guards. The mercenaries ultimately won, taking Dr. Mason Wren and DiStephano hostage. The Xenomorphs being studied aboard the Auriga escaped shortly thereafter, forcing Distephano, Wren, Ripley 8 and the mercenaries to work together to escape the ship alive. DiStephano eventually earned the trust of the Betty crew and fought alongside them, choosing to defend them against Wren in the face of his treachery.
After Distephano and the others escape the Auriga aboard The Betty, when Call doesn't respond to Ripley 8's messages, Distephano is sent to check up on her. He treads out, only to be greeted by the Newborn, which promptly crushes his head in his grip.
Personality & Traits
Edit
Unlike his immoral superiors Wren and General Perez, Distephano was a decent person, defending the crew of the Betty against Wren and coming to check on Call. This shows compassion for others which his crewmates did not have.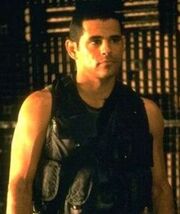 Equipment
Edit
Distephano main weapon is a standard issue Lacrima 99 Shockrifle 'Burner'.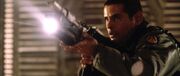 Behind the Scenes
Edit
Appearances
Edit
References
Edit