Welcome to my Talk page!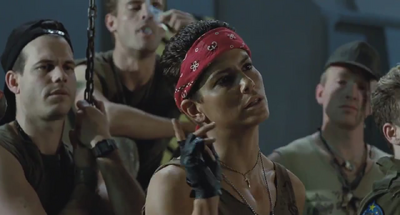 Got a question?
Leave me a message and I'll get back to you as soon as I can. Please remember to sign at the end of your message, using either the signature button (
) or by typing four tildes (~~~~), and please keep things civil and polite.
If for some reason I don't get back to you promptly (chances are I'm away somewhere for a few days), you might want to try contacting either Toa Quarax or The Cruentus and they'll help you out!
Current status: ACTIVE USER
---
The current size of this page in bytes is 10,027. Archive when it reaches at least 50,000 bytes.
Archives: 1 | 2 | 3 | 4
Alien articles
Edit
Monster Legacy just posted some long articles on the Aliens from the first two films.--Toa Quarax(Talk) 03:40, March 16, 2015 (UTC)
Yeah, I've noticed, but I just haven't had time to read through them all yet (although I did go through the one on the Warriors from Aliens). I'll definitely give them a read at some point.-- LEIGH BURNE(Talk) 09:06, March 16, 2015 (UTC)
Uploading Photos
Edit
How do I upload photos?--Dofhd (talk) (Contribs) 21:56, March 19, 2015 (UTC)Dofhd
If you're using the VisualEditor, click on Insert, then Media and upload your photo.--Toa Quarax(Talk) 02:13, March 20, 2015 (UTC)
Dofhd, you might want to check out this help page on images.-- LEIGH BURNE(Talk)
Hi there! Thank you for fixing my edits to certain pages, I am still new to the site! --Herashr (talk) (Contribs) 21:47, April 2, 2015 (UTC)
No problem, thaaks for contributing!-- LEIGH BURNE(Talk) 07:44, April 3, 2015 (UTC)
Grid's pic
Edit
I saw the new picture of the Grid Xeno....I'm sorry but i'm gonna have to disagree with this change....In the old pic it had a zoom in on it's face where you could clearly see it's most defining feature, this pic just looks like jumbled up body parts.....Permission to revert it?
Heatlineheard (talk) (Contribs) 21:16, April 12, 2015 (UTC)Heatlineheard
Xenopedia policy is to use an in-film screenshot for the title image on character pages — the previous image was a behind-the-scenes photograph. I disagree that the new version "looks like jumbled up body parts", you can still see it's Grid, but you are of course welcome to try and find a better snapshot from the film!-- LEIGH BURNE(Talk) 08:27, April 13, 2015 (UTC)
New message
Edit
Leigh, Sorry for writing on another post but I'm having trouble sending you a new Transmission, it seems to overwrite what was previously written, not sure why this is happening, it had never happened before. JANN ELDERPREDATOR (talk) (Contribs) 09:50, April 20, 2015 (UTC)
Huh, that's strange... It told me you posted a message on here but then before I could reply it said you'd you removed it again! Try again perhaps?-- LEIGH BURNE(Talk) 10:14, April 20, 2015 (UTC)

Yeah I don't know man, I removed it because it was showing me like your entire talk page was erased once it sent, so I undid it...let me try once more JANN ELDERPREDATOR (talk) (Contribs) 10:17, April 20, 2015 (UTC)
Ah yeah, I've had that happen before. It's just a glitch. If it happens again, click Edit, don't change anything and hit Publish again, and it should fix it.-- LEIGH BURNE(Talk) 10:33, April 20, 2015 (UTC)
Hey Leigh how's everything?
Been gone for a while since my fifteen year old dog passed, so I've been dealing with that amongst other things.
Also did you want me to make a few more edits for the new logo I was designing or is that last version good?
(Sorry about the archive edit, read the headline too late, so I erased what I had written.) JANN ELDERPREDATOR (talk) (Contribs) 10:18, April 20, 2015 (UTC)
Cool looks like it worked this time. JANN ELDERPREDATOR (talk) (Contribs) 10:19, April 20, 2015 (UTC)
Ah, really sorry to hear about your dog. We lost ours earlier this year. Sad but he was a good old age so not completely unexpected, and at least he was happy and healthy up until the end.
Feel free to try tweaking the logo some more if you want! I've actually been really busy of late trying to smarten up the comic book pages on here (all, like, two hundred of them) because they're one of our biggest problem areas, so I haven't had much time to think about anything else! It's been a bit of a marathon.-- LEIGH BURNE(Talk) 10:33, April 20, 2015 (UTC)
Thanks man I really appreciate it. Sorry about your loss as well, they definitely become family so it is indeed very difficult. Mine was very happy and healthy overall, up until the final week of his life (wasn't eating etc.) but at least he passed in his sleep at home. Dogs should live like 30-45 years lol. Also at least both of our dogs were old and happy till the end.
Cool will do! Any particular things you'd like me to try and improve on it?
No worries my friend, if you need any covers or anything I can try and help when I have time if you like, I have thousands and thousands of AvP images that I hope to eventually upload unto here, just takes a while lol.
Lastly can't wait for Predator in Mortal Kombat X! Played it yet?
JANN ELDERPREDATOR (talk) (Contribs) 10:47, April 20, 2015 (UTC)
Fortunately Dark Horse Comics' website is proving a great asset, they have digital copies of the covers from virtually every comic (and every issue) they've ever published, so I've been able to fill in the ones that were missing on here no problem. But of course feel free to upload any cool images you have in your collection. During my digging around I even found a couple of comics that we had no pages for at all, so I've created those and added them to the various lists on here.
I'll be honest, I'm not a great fan of beat-em-ups (I'm not sure I've played a single one made for any platform post-SNES!) but I am quite intrigued by the Predator making a guest appearance in the new one. I'll keep an eye on it for sure. Maybe we can even get an article set up for it; after all, we have one for Call of Duty: Ghosts thanks to the Predator's playable appearance in that.
As for the logo, it looked pretty good to me, but if you can think of anyway to improve it by all means give it a go. I'm very nearly done with the comics pages, actually; once I'm finished I intend to start a blog post regarding the replacement of the current logo with the new one, to see what other people think.-- LEIGH BURNE(Talk) 11:34, April 20, 2015 (UTC)
Oh yes! Dark Horse's website is great! Besides all the great documented info, they also have some really great HD wallpapers, seen the Fire and Stone ones?.
Yeah I don't play much fighting games but I have been a huge Mortal Kombat fan since I was really young, and although Predator makes no sense in the MK Universe it's still gonna be a lot of fun to have my favorite character (next to the Alien and Engineer) in my favorite fighting game series lol! Yes I was thinking the same thing, once he's out I'll play him a few million times and then create an article or add info to it if it already exists.
Yeah personally I think it looks just fine, pretty satisfied with the latest one ;P
Awesome thanks =) JANN ELDERPREDATOR (talk) (Contribs) 21:28, April 21, 2015 (UTC)
Ah I didn't know they did wallpapers too, I'll have a look at those. I was planning to explore the site a little more now that I'm done with the comics.
I'll get on the blog post in the near future.-- LEIGH BURNE(Talk) 08:44, April 22, 2015 (UTC)
AVP-R images
Edit
Hey Leigh, I will be uploading some photos from AVP Requiem soon and when I am able to, be aware that some photos may look the same but one version will be from the blu-ray. I took from different version to see what would be best and/or suitable. --
The Cruentus(Talk) 15:47, May 7, 2015 (UTC)
Hey there! First of all, my condolences for owning that movie :P In all seriousness though, that sounds great, those pages have some of the worst images on the site. Generally I'd say the Blu-ray pictures should be better. Higher resolution and all that. Instead of uploading two of everything maybe you could deleted the one you decide is inferior after you've tried them out? There shouldn't really be any need for two copies.-- LEIGH BURNE(Talk) 17:01, May 7, 2015 (UTC)
Hello. (Nature's savoir (talk) (Contribs) 21:02, May 28, 2015 (UTC))
Errm... hi. Did you want anyting in particular?-- LEIGH BURNE(Talk) 08:33, May 29, 2015 (UTC)
Please add the Characters category to the In-universe articles category
Edit
Could you please add Category:Characters to Category:In-universe articles?John Pannozzi (talk) (Contribs) 14:41, June 4, 2015 (UTC)