So, I was going to do a Pulse Rifle first, but ended up doing this first because it's less expensive (not true anymore). Right now I'm still trying to locate some parts. I'd be nice if I could incorporate some electronics too, but that would probably be a bit too hard (and expensive) for me. Gathering all the parts is probably going to take forever :(.
Parts
Motion Tracker
Jobo "Laborleuchte" ("Laboratory lamp").
Olympus T28 calculation panel.
Hama remote control for pentax/remote release.
Hama "Selbst-auslöser 5401" ("Automatic shutter release").
Casio SL-85.
Hama Slide Viewer B101 (3642).
Vivitar Zoom Thyristor 2500.
Matchbox Powertrack transformer from the 2000 series and up.
Kango 426.
Sling.
Sling swivels.
Grill.
Thingy on the bottom.
Humbrol 170 Brown Bess.
Other stuffz
SPH-4.
Panasonic Ranger 505.
Reflecta 3002.
Technisub La Spirotechnique/Vega diving lamp.
Superswitch Electrical Appliances alarm.</strike
Hama pistol grip.
<strike>Hornby R655.
AR-125 footpegs.
GPZ750 switch.
S6 respirator bag.
Guides
Kits
Notes
The at one point screen reads, "FE.M.S. 0.044.60" and "CX. 5d/3R.04" (I might have added some spaces where there were none).
Find the differences between the 6410, 6415, and any other variants of the Jobo light.
5pcs Gray Ribbed Grip 4mm Split Shaft Potentiometer Control Knobs
Reference pictures
Updates
February 15, 2014 1
Just got outbid for 4 of the Jobo lights :(, but I think it should be pretty easy to find another.
February 15, 2014 2
Just found out there are two version of the Vivitar 2500 with slight differences. I'll ask Harry Harris about this (he owns an original Hama slide viewer).
February 16, 2014 1
A bit off topic, but I've found a place where you can buy the original toy used for the Smartgun battery and Marine "belt tool". It's the four barrel version, which I've heard is inaccurate, but I'm unsure of this (I think it would still be accurate for the battery though). There's also one on eBay right now which is currently cheaper.
February 16, 2014 2
Unfortunately, the writing on Harry's has almost completely been worn off, but I think I've found the right 2500.
Here's his:
March 2, 2014
Looks like I'm going to have to pay quite a lot for the slide release.
March 21, 2104
So, due to the rarity of the parts, it will probably be a long time in between updates :(.
April 10, 2014
I've found a Hama self timer on eBay, but it's an auction. There doesn't seem to be too much interest in it, however, so my chances of winning it seem good.
April 12, 2014 1
Got it :)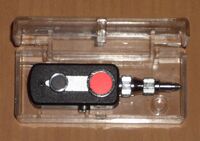 April 12, 2014 2
I created this new diagram of the MT's parts for the article which covers more parts than the older one.
The pictures (except for the one of the bottom of the slide viewer, which is of Harry Harris') are of the Master Replicas MT. I'll probably end up adding a few more numbers later since I missed a few pieces like the grill, sling swivels and a few cables. Circling the parts might look better too.
And I found this is my house: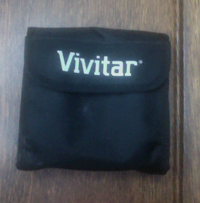 Didn't think Vivitar would still be around.
April 13, 2014 1
Here's what I think I'm going to do with the monitor:
Doesn't move when you do, but it's a lot cheaper.
April 13, 2014 2
Can't believe I missed out on these :(.
April 13, 2014 3
Too bad I didn't start earlier. Look at how little this sold for.
April 13, 2014 4
Bought the "LCD FM Radio Video Mp3 Mp4 Player".
In unrelated news, I'm trying to get a few issues of the Aliens Fan Club's The Facehugger, including the one with the first appearance of the Predalien!
April 23, 2014
I bought a PT-6000 transformer and I almost have the Kango 426 and the slide viewer.
I also got those issues of The Facehugger. I'll scan them once they arrive.
April 25, 2014 1
The Prop Store was apparently selling their Motion Tracker at Comic-Con. I wonder if it's already been sold; I didn't see it pop up for sale on their site.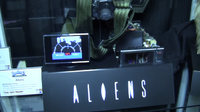 April, 25 2014 2
JOBO is also still around today.
The Galaxy Enforcer (the part used for the belt tool) sold out again at the site I linked awhile ago. I'm going to have to buy them next time they're in stock.
April 26, 2014 1
Un fu***** believable! A Casio SL-85 just sold for £2.60! I was only two days late! That's the second time I just missed an SL-85 (probably the hardest part to find)! Another sold for around $50 (still a good price) at the end of March, and it was listed twice and I still missed it! I'm going to go cry in a corner or something...
April 26, 2014 2
Seriously! Another sold in early March for $40! How did I miss getting the SL-85 THREE TIMES!
April 28, 2014
Lost an auction for a slide viewer :(.
May 10, 2014
May 27, 2014
So, I was gutting the Vivitar when my screwdriver slipped...
Looks like I'm going to need another one...
May 28, 2014
The state of the Vivitar:
I've also got the player to work (but I get error messages a lot for some reason):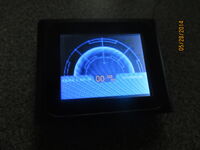 June 3, 2014
Took a lot longer than expected to find this: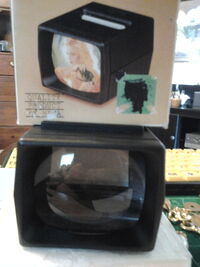 June 8, 2014
My cat seems interested in what I'm doing: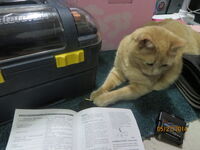 I need to find a way to disable the timestamp.
June 19, 2014
Well, I just asked Stephen Lane about the Motion Tracker on display at SDCC 2013 and he told me it's already been sold.
June 25, 2014
This just arrived: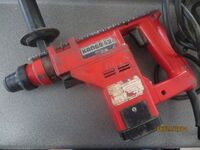 I'm cleaning it up with some 409 right now (I hope that's not a dumb idea), but it doesn't seem to be doing much. I also found this lying around the house; it's from the same company that makes the T10 and T28 calculation panels:
July 1, 2014 1
A few more things: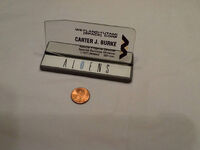 I might have overpaid a bit for it ($35), considering Spat used to offer his for $25, but I guess the super fancy stand makes up for that. No one seems to sell these anymore too, so I guess it could be considered rare. I have no idea who made this, but someone on Your Props has the same one, so I might try asking him. I also have no idea how accurate it is.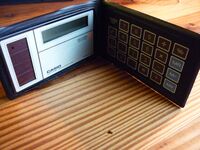 I know it's not accurate, but I only payed $12 for it with free shipping.
July 1, 2014 2
Just got an incredible deal on an Olympus T10 Ring Flash: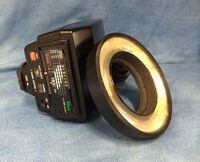 These usually sell for around $90 (the panel alone was going for about $50), but I got this for only $48!
July 1, 2014 3
I bought this a few days ago too. It's been color matched with a sample of the original cellulose Brown Bess.
July 1, 2014 4
I made an account on Your Props so I could send the owner of the card a message and went ahead and made a page for my card. Hopefully, the person I bought this from doesn't mind if I use their pictures.
July 2, 2014
This arrived today (and probably would have arrived yesterday had it not been Canada Day here):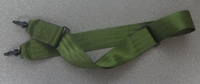 The sling is very high quality. At first, I though it was too small, but that's how they are in the film.
The user on Your Props (Trekkie) told me he used to sell the cards on eBay and could make customized versions.
July 3, 2014
Well, it looks like I bought the wrong calculation panel (assuming the stunt versions also used the same panel, which I'm pretty sure they did):
You can tell the T28 was used on the Motion Tracker by the position of "WORKING DISTANCE" and the bottom white number clearly only has one digit.
July 6, 2014
Well, the disassembly of the Kango was going pretty well until now:
I've got no idea what to do now.
July 12, 2014
July 19, 2014
I've got to wait a few weeks for my circlip pliers to arrive so I can continue disassembling the Kango, but in the meantime I'm working on making a loose replica of Ripley's high-tops in Alien and I've bought this: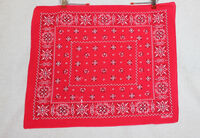 It's the exact same kind of bandana worn by Vasquez.
July 26, 2014
Just won a Jobo Minilux: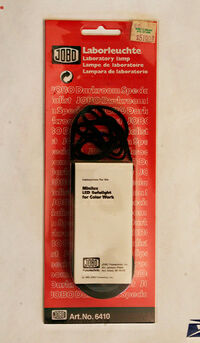 I also picked up another Vasquez bandana since it seems the one I bought had a hole in it.
August 8, 2014
I'm still waiting for those pliers, but I managed to get another Jobo: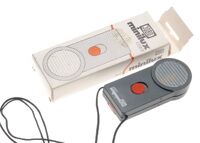 I also got a Superswitch Intruder Alarm, but it's going to end up costing around $100 with shipping, which probably isn't worth it:
August 10, 2014
I had to let this Casio SL-85 go since I'm broke. $50 is pretty pricey for a Casio SL-85 anyways. I figure if I wait another few months, I'll get a better deal.
August 19, 2014
Well, I finally got the pliers, but as soon as I removed the first circlip, I got stuck again.
I also got another Hama Slide Viewer. This one's a variant I haven't seen before:
August 22, 2014
YES! I knew I could get a better deal (although I was actually ready to pay over $100 since I had a ton of money leftover from not winning this auction; I can't believe someone would that much for those parts). I also can't believe how little I paid; there was several watchers last time I checked.
August 30, 2014
I've started writing my assembly guide for building a Motion Tracker out of real parts here.
Also, I went to my local Canadian Tire and found some screws which are the exact same as the ones used to hold the upper and lower body together (I think), except the head is a bit smaller. I'm not sure if I'll use them yet.
September 11, 2014
I found this knock of Star Wars blaster at my local Dollarama:
I'm trying to build a "close enough" Nostromo laser pistol out of it, but it needs a lot of work.
September 24, 2014 1
September 24, 2014 2
October 2, 2014
So, I found some of Kango's patents: [1] [2]
November 16, 2014
Alright, it's been a while since the last update. First, I've got my pump widget from a small run Noble did (turns out they're not that hard to find, so I'll probably get a few more):
I got 2 more black Jobos (one of which I'm trading) and a white one:
My first self-timer's latch broke, so I got another one (the exact one used in the film, based on Hama catalogs) and a weird variant:
I got another Matchbox Power Unit (I'm thinking this might be the exact one they used):
Also, I got the type of Neutrik used on the Smart Gun and Sentry Guns, but the colors are wrong (the right ones are almost impossible to find, but there was a lot with a few of the right ones and the ones I've got that sold for extremely low about a year ago):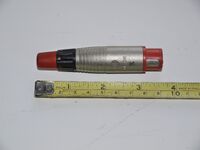 And lastly, I got a pack of Gitanes:
December 25, 2014
Haven't made any progress really. I did find some cool fan stuff, though (note the use of M314 on these):
I wish they were more accurate, but I'll still be buying them. There's also this:
A bit too expensive, especially with the cost of shipping.
February 15, 2015
Hey, I've officially been searching for parts for a year now... yeah?
So, since I won't really have anything to talk about until I can gather the last few Motion Trackers bits, I had some ideas for some other blogs I could make:
Kango 426 Case Sightings (all written, but the computer I'm trying to take screenshots with makes them darker for some reason).
Motion Trackers in the Comics.
Motion Trackers in the Video Games.
Quarax's Real Parts Alien Tracking Device Guide (probably would just consist of a guide on taking apart the Ranger TV for a while, since a lot of the parts are either super hard to find or very expensive).
Etc.
I could also try to build an Alien: Isolation Motion Tracker like Reef on the RPF, but that would be probably be too complicated for me with all the custom parts I'd have to build.