This just arrived from the Prop Store.
"A set dressing book used in the sci-fi thriller Prometheus. These style of books were used as set dressing in both Shaw's (Noomi Rapace) living quarters and in Vickers' (Charlize Theron) quarters, where they were filed neatly behind the piano on the curving bookshelves. The books are all original texts from a wide range of authors and covering a variance of subject matters, this was to help enhance the library effect. Interestingly there is also previously unseen footage of the Engineer rummaging through the scattered books, although it was cut from the film, the images are available to view online.
Approximate size of each book is roughly A5 and although there are some minor abrasions it is in overall good production used condition."[1]
This book is actually Mortal Coil by Anthony McGowan.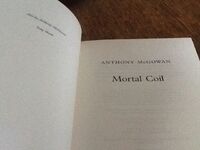 ]
The first page of the book is really messed up and there's even a feather in it for some reason.
I also bought this prop 1000 Amero Bill from Elysium.
And here's some of the stuff that came with them, including the certificates of authenticity.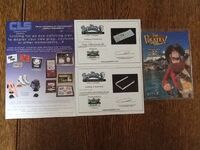 This was also recently added so...