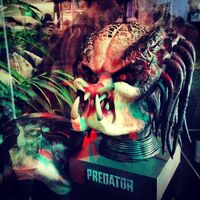 Again kinda late on this one :(
Predator is getting released in Blu-ray and Blu-ray 3D on December 16th 2013. Predator 3D will be available in either the "headless" Blu-ray 3d for $49.99 or the $129.99 Limited Edition which also includes a head bust of the Jungle Hunter with a removable Bio-Mask. Both versions of Predator 3D will also include hours of bonus material.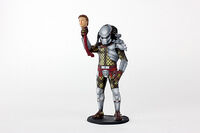 Also at the Comic-Con booth you were able to get your face scanned which would then be made into a figure of the Jungle Hunter holding your decapitated head, although you would have to pick a preset hair style and color. The figure was only available if you purchased the Predator Blu-ray 3D.