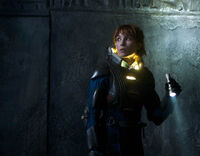 Looking at the new Prometheus trailer, all I can say is...wow. I'm seeing some wild stuff I could never have thought of myself...crazy alien life-forms, a planet splitting down the middle?! It's going to be difficult to wait for the release date on June 8.
As for casting, Noomi Rapace, the actress who starred in the Swedish The Girl With The Dragon Tattoo will be starring in Prometheus as Elizabeth Shaw. In addition, Michael Fassbender will be playing a butler-like robot with interestingly human traits.
As for the plot, Prometheus will center around a group of explorers on a spaceship called Prometheus, searching for clues about the origin of mankind. To make matters better, the mind that created the fantastic and spooky stuff we saw on Alien in 1979 will now be working in a 3-D medium.
Ridley Scott doesn't plan on Prometheus being his last film. In fact, he says he will do another science film "as soon as possible".
After seeing the trailer below, do you think you'll be seeing Prometheus in theaters? Comment and tell us!

Source: Wired.com