So I get that I have a very unusual point of view on things, being a dork who loves anything unusual or different especially if it relates to Alien or Predator. So when I started learning more about my favorite fashion designer Alexander McQueen who lost his battle with mental illness, as many great artists do, to suicide, I saw these shoes...Alien inspired or what???!!! Needless to say I (and most people) could never walk properly in them, but man do I want them!!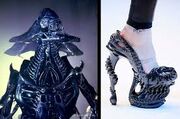 Ad blocker interference detected!
Wikia is a free-to-use site that makes money from advertising. We have a modified experience for viewers using ad blockers

Wikia is not accessible if you've made further modifications. Remove the custom ad blocker rule(s) and the page will load as expected.