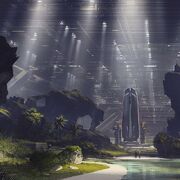 You can't kill it.
Alien
is coming back to the big screen with filmmaker 
Neill Blomkamp
, who worked briefly on the thought dead
Alien: Xeno
movie, in the director's chair.
Details of the currently untitled movie are still under wraps, but it's safe to assume that the story will be similar to what the District 9 filmmaker personally concepted and showed off in a batch of images he recently posted online.
Blomkamp's posts got Alien superfans excited and apparently caught the attention of decision-makers at 20th Century Fox, who quickly worked out a deal to resurrect the project and sign Blomkamp. He took to Instagram earlier today to announce the project.
According to The Wrap , the new film's story is set after the events of Prometheus 2, which is still being developed with Ridley Scott in the director's chair.
While one of Blomkamp's concept images prominently featured original series star Sigourney Weaver, it's unknown whether she'll reprise her iconic role as Ellen Ripley in the new movie.
What do you think about Blomkamp directing a new Alien movie? Share what you think in the comments.