USM Auriga
Talk

3
1,711pages on
this wiki
USM Auriga
Production information
Technical specifications
Length

3,657.6 meters (12,000 feet)

Width

718 meters (2355 feet)

Height

628 meters (2060 feet)

Maximum acceleration

0.08 light years per sidereal day (intrasystem)

Armour

extra thick hull plating with stealth run capability

Countermeasures

USM standard 12 personnal lifeboat

Crew

49

Passengers
Usage
Year introduced

2370s

Role(s)

military-operated scientific research vessel

Affiliation

  [Source]
The
USM Auriga
was the
United Systems Military
vessel used to conduct cloning experimentation on Lieutenant
Ellen Ripley
in the late twenty-fourth century. The USM
Auriga
was 12,000 feet in length and maintained a constant crew of forty-two enlisted Security Officers and seven science officers. An artificial intelligence program,
FA-TH-UR
, was in charge of managing the ship's autopilot and personnel organisation systems. The
Auriga
had a mess hall, several reservoirs, sleeping quarters, a surgical lab and several prison pods containing genetically-grown Xenomorphs. Following the escape of several
Xenomorph
specimens the crew of the USM
Auriga
abandoned the vessel in its
EEVs
, although many crew members were killed in the process. The
Auriga
then autopiloted itself to
Earth
and exploded high in the atmosphere above Africa.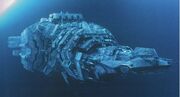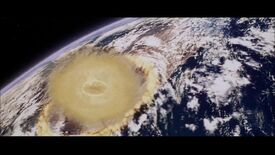 It is unclear why Ripley 8 and Call decided to crash the Auriga into Earth in such a potentially destructive manner. If they had the ability to reprogram the ship to speed up and crash, they must also have had the ability to change its course. They could have flown it into another planet in the Solar System, or even the Sun, which would have achieved the same aim with far less risk of collateral damage. It is never established what damage is done by the Auriga exploding over Africa, let alone whether the continent is still inhabited (although in the extended Special Edition of the film, Call remarks that she is directing the ship to an uninhabited sector).