Trevor Wierzbowski
Talk

3
1,707pages on
this wiki
Trevor Wierzbowski
Biographical information
Rank

Private

Serial number

A14/TQ8.0.20034E7

Physical description
Species
Gender

Male

Hair color

Brown

Eye color

Brown

Chronological and political information
Affiliation
Status
Portrayed by

Trevor Steedman
Josh Ridgway

  [Source]
Private Trevor Wierzbowski was a member of the United States Colonial Marine Corps. He was part of the combat unit deployed to LV-426 aboard the USS Sulaco in 2179, to investigate the sudden loss of contact with the colony of Hadley's Hope. He subsequently perished as a result of the Xenomorph infestation at the colony.
Wierzbowski was part of First Squad's rifle team, along with Private Crowe.[2] He was lost during the early stages of the operation, although it is unclear if he was killed outright or taken and later impregnated with a Chestburster.
Biography
Edit
Inside the Atmosphere Processor at Hadley's Hope, Wierzbowksi was one of the first to come to the aid of Private Frost and Corporal Dietrich when the Marines were first ambushed by Warriors, not realising the bag containing the section's confiscated Pulse Rifle ammunition was on fire at the scene. Corporal Hicks attempted to pull Wierzbowski away from the explosion, but the blast still knocked him off of his feet. He was later violently attacked by a Xenomorph and either killed or carried away to be a host.
Equipment
Edit
Wierzbowski was outfitted with standard issue M10 Pattern Ballistic Armor for protection, including a humorous "Spare weapon" tag painted on his crotch protection.[3] His armor was also equipped with a TNR Shoulder Lamp attachment for illumination, and he carried an M240 Incinerator Unit as his primary weapon on the Hadley's Hope mission.
Behind the Scenes
Edit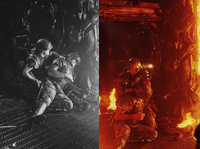 Originally, more footage was filmed of Wierzbowski being injured by the explosion of the ammunition in the Hive. Additionally, Hicks helped prop him up against a wall afterwards before going to check on Crowe. This footage was not used in the final film or reinstated in the Special Edition.[4]
After Lieutenant Gorman's briefing, Wierzbowski can be seen flipping Gorman off after hearing the unrealistically tight time limit imposed upon the Marines for preparations (right hand side of the screen, hands only).
In the comic Aliens: Newt's Tale, it is Wierzbowski and Dietrich who are are taken alive to be cocooned, instead of Apone and Dietrich.
There is a website dedicated to Wierzbowski called Wierzbowski Hunters. Something of a running joke in fandom is that out of all the Colonial Marines featured in Aliens, the "Wierz-man" gets the least amount of screen time, to the point of having essentially no significant lines.
Wierzbowski's name implies he is of Polish descent, although the correct spelling would be "Vierzbowski".
The novelization by Alan Dean Foster states that Ripley liked Wierzbowski.
Appearances
Edit
References
Edit