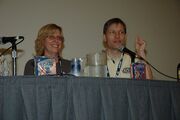 Tom and Mary Bierbaum are an American husband-and-wife comic book writing team who wrote the comic Aliens: Xenogenesis for Dark Horse Comics.
Biography
In the comics field, the Bierbaums are primarily known for their work on DC Comics' long-running future superhero series The Legion of Superheroes, on which the duo rose from prominent members of the fan-community to actual, pre-eminent writers of the series throughout the 1980s and 1990s. The couple actually first met as members of the series' fan club.
They have also written for other major comics companies in the course of their two-decades long career. After their time at DC Comics, they would write for companies including Image, Topps and Blue Line Pro.
Never full-time comics writers, the couple live in Erie, Pennsylvania, with their two children. Mary retired from being a nurse in 1991; Tom used to freelance for Variety before becoming a staffer at the short-lived entertainment/business website Inside.com. In 2001, he began work at NBC as a ratings analyst.
Credits