"AVAILABLE DATA INSUFFICIENT"

This article is a stub or needs expansion. Help Xenopedia by expanding it.

Tichinde
Biographical information
Rank

"Clan Leader"/Bad Blood
Unblooded (formerly)

Physical description
Species
Gender

Male

Height

7'+

Hair color

Reddish-brown

Eye color

Yellow

Affiliation
Notable Facts

Challenged Dachande and lived
Led a clan as an Unblooded

Status

Deceased

  [Source]
"Others dispute?"
― Tichinde, after murdering Aseigan
Tichinde was a part of Dachande's clan, and one of the three young warriors he'd marked as a trouble-maker.
Biography
Edit
Tichinde is described as talking louder than the other young warriors. Of the three, Dachande watches him the most, for the young male makes subtle defiant gestures at him, such as bowing but locking eyes with him instead of looking at the floor and flaring his mandibles at the Clan Leader; a sign of aggression. During training, he easily takes on Mahnde and in the ensuing adrenaline rush, tries to take on Dachande as well. The book cuts away to Machiko Noguchi, but presumably Tichinde is defeated by an exasperated Dachande.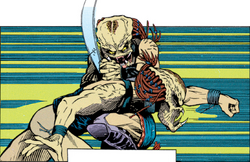 Later on, as the hunt begins, and Ooman attack leaves Dachande badly wounded and the two blooded predators, Skemte and Warkha, dead. Stranded, Tichinde usurps Dachande's position as Clan Leader and leads his fellow Unblooded on a revenge campaign against the humans, killing Aseigan -- a dissenter -- in the progress. Tichinde breaks several laws of the hunt, becoming a badblood and leading all the rest who follow him in the same direction, as he does.
Eventually, however, his pursuit of Machiko Noguchi leads him back to the thought-dead Dachande, whom he attempts to destroy once and for all. However, even recovering from grievous injury, the older predator is more skilled. Tichinde loses the fight in him when his mandibles are broken and tries to crawl away, but Dachande grabs a spear and pierces the base of his spine, killing him and spitting on his corpse.
Personality
Edit
Tichinde was a lot like Dachande when he was young: spirited and competitive, to the point where he challenges and tries to kill his own leader. However, Dachande claims the male lacks brains among other things, but he wasn't cowardly at least. Tichinde was murderous, callous and domineering, to the point where he killed his own kind then hunted down children, which are unworthy prey. Egotistical and ruthless, he cowered in fear when Dachande eventually finds him again and kills him.
Equipment
Edit
Appearances
Edit