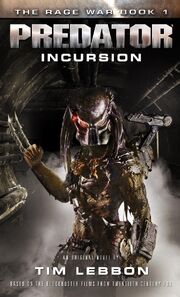 The Rage War is a novel trilogy written by Tim Lebbon and published by Titan Books. It consists of the novels Predator: Incursion, Alien: Invasion and Alien vs. Predator: Armageddon, which collectively form one continuous storyline.
As well as the standard print editions, each of the novels has been released as an audiobook, read by John Chancer.
The trilogy was first teased by James A. Moore (the author of the Alien: Sea of Sorrows) on September 2, 2014 on The Aliens Legacy forums.[1] The trilogy was later officially announced in an advertisement placed at the end of the next Alien novel, Alien: River of Pain.
The Rage War Novels
Trivia
The format of the Rage War trilogy — one book from each of the Alien, Predator and Alien vs. Predator franchises that together form one continuous storyline — was likely inspired by the Fire and Stone comic book crossover event from the previous year, which similarly consisted of separate series from the Aliens, Predator, Aliens vs. Predator and Prometheus lines that together formed one cohesive story.
The Rage War was the third time the trilogy format was employed for novels in the Alien/Predator/Alien vs. Predator franchise, after the original Aliens novel trilogy and the 2014 Alien novel trilogy. It was the first such trilogy to receive an official collective title. It was also the first such trilogy to be entirely written by a single author.
Rage War author Tim Lebbon would later write two prequel short stories that feature characters from the trilogy before the events of the novels. The first of these, Spite, appeared in the anthology novel Aliens: Bug Hunt, while the second, Devil Dogs, appeared in the anthology novel Predator: If It Bleeds.
Gallery
References
↑ "The Aliens Legacy - Alien: Sea of Sorrows excerpt". Retrieved on November 19, 2014.