"You'll never see him coming."
―The Predator tagline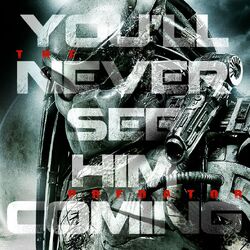 The Predator[1] is an upcoming 2018 science fiction film to be directed by Shane Black. It will be a sequel to the 1987 film Predator.[2] Black will also write the script treatment for the film, although the full shooting script will be developed by Fred Dekker, with Black overseeing his work. John Davis, who served as one of the producers on the original film, is set to return in the same role for the new sequel. 20th Century Fox executive Matt Reilly and Davis Entertainment's Ira Napoliello are overseeing the production.[2][3] It is slated for a March 2, 2018 release date.[4]
According to Black, the film will be an "inventive sequel"[2] with a modern-day setting.[5]
In May, 2016, Black mentioned that he was looking for plot details set up in the previous Predator movies that he can retrospectively link back to with the new film.[6] However, in June of the same year Black stated that while the film theoretically shares the continuity of Predator 2 and Predators, neither of these films will be referenced.[7]
Development
Edit
Nimród Antal and Robert Rodriguez
Edit
Following the release of Predators, the film's director Nimród Antal discussed the idea of a sequel and said that he would love to make one. The film's producer Robert Rodriguez likewise stated that he was interested in a sequel because of the large number of potential ideas the Game Preserve Planet setting provided, and also proposed a prequel movie about Laurence Fishburne's character Noland.[9] Rodriguez later stated that he viewed a sequel as a chance to "really go crazy" with the "new storyline, new location and world" that Predators had set up, and confirmed that 20th Century Fox was at least considering creating a sequel.[10] However, the project apparently stalled and went quiet for several years.
Shane Black
Edit
Production of a fourth Predator film was first announced in an exclusive by The Hollywood Reporter published on their website on June 24, 2014, with Shane Black confirmed as director.[3] Despite the initial report claiming the film would be a reboot, Black later clarified in an interview with Collider that the film is in fact a sequel.[2] Black, who will outline the basic plot in a script treatment, and Fred Dekker, who will develop the script, previously co-wrote the 1987 movie The Monster Squad together. In August 2015, it was reported that work on the film was on-going, and that the script was almost finished.[11] On November 30, Dekker confirmed via his official Facebook page that the film's script had been completed and handed to 20th Century Fox.[12]
On February 16, 2016, a piece of artwork consisting of an image of a Predator overlaid with the slogan "You'll never see him coming" and "The Predator" was posted on the official Predator Facebook page, leading to widespread speculation that the title of the new film would be The Predator; later the same day, Black confirmed that this was indeed the case.[1] In March 2016, during interviews for his film The Nice Guys, Black stated that The Predator would be an "event" film and that the budget will be considerably larger than for other recent movies featuring the Predator.[13] It was also confirmed that the film would have an R-rating, with Black stating that he had demanded this before agreeing to become invovled.[14] "I made a condition of my participation with Predator that it be the same rating as the first movie, and the first movie was Rated R. In other words, I don't want to cut away every time the Predator does something violent."[14]
On September 16, 2016 it was announced that Oscar-winning actor Benicio Del Toro was in talks to star in the film,[15] although the following month it was announced that he had left the project due to scheduling issues. Boyd Holbrook was subsequently linked with the film's leading role.[16] Olivia Munn was also reported to be in talks to join the film, in the role of a scientist opposite Holbrook's commando character.[17]
Special Effects
Edit
Creature effects for the film will be provided by Amalgamated Dynamics, Inc., who previously worked on the films Alien3, Alien Resurrection, Alien vs. Predator and Aliens vs. Predator: Requiem.[18]
The slogan in the teaser poster, "You'll never see him coming", is an obvious reference to the Yautja's Cloak, but also a nod to Iron Man 3, which was written and directed by Black, in which the character of The Mandarin notably uses the line, "You'll never see me coming..."[1]
The Predator shown in the teaser poster is actually the Crucified Predator from Predators, identifiable by the damage to its Bio-Mask.
References
Edit
↑ 1.0 1.1 1.2 "Collider - Shane Black's 'Predator' Sequel Is Called 'The Predator'; First Poster Revealed". Retrieved on 2016-02-16.
↑ 2.0 2.1 2.2 2.3 "Collider - Exclusive: Shane Black Says His PREDATOR Film Is a Sequel, Not a Reboot". Retrieved on 2014-06-26.
↑ 3.0 3.1 "The Hollywood Reporter - Fox Rebooting 'Predator' With Shane Black (Exclusive)". Retrieved on 2014-06-25.
↑ "Collider - 'The Predator' and 'Alien: Covenant' Get Official Release Dates". Retrieved on 2016-02-28.
↑ "Collider - Exclusive: Shane Black Reveals When 'The Predator' Will Take Place". Retrieved on 2016-09-13.
↑ "Collider -How The Predator Will Solidify The Series' Complicated Continuity, According To Shane Black". Retrieved on 2016-05-23.
↑ "IGN - SHANE BLACK PLANS TO BRING MYSTERY BACK TO THE PREDATOR FRANCHISE". Retrieved on 2016-09-13.
↑ "The Hollywood Reporter - 'Moonlight' Star Trevante Rhodes Joins Shane Black's 'The Predator' (Exclusive)". Retrieved on 2017-01-11.
↑ "MovieWeb - EXCLUSIVE: Robert Rodriguez Talks Predators Prequel, Sin City 2, Spy Kids 4 and Madman!". Movie Web (2010-07-01). Retrieved on July 3, 2010.
↑ "IGN - SDCC 10: Rodriguez Confirms Predators 2". IGN. News Corporation (July 22, 2010). Retrieved on 2010-07-22.
↑ "ComnigSoon.net - Predator Sequel Still on Track with Shane Black, Script Nearly Complete". Retrieved on 2015-10-08.
↑ "Facebook - A character from the new screenplay we just turned in. Art by Angus Herndon, age 7.". Retrieved on 2015-11-30.
↑ "Thrillist - Ryan Gosling Squeals & More 'Nice Guys' Scoops from Director Shane Black". Retrieved on 2016-03-23.
↑ 14.0 14.1 "Den of Geek - The Predator Exclusive: Shane Black Talks R-Rating and More". Retrieved on 2016-05-21.
↑ "Deadline - Benicio Del Toro In Talks To Star In 'Predator' Reboot". Retrieved on 2016-09-13.
↑ "IGN - THE PREDATOR: BENICIO DEL TORO OUT, WOLVERINE 3'S BOYD HOLBROOK IN TO STAR". Retrieved on 2016-10-12.
↑ "The Hollywood Reporter - Olivia Munn Joining Boyd Holbrook in Shane Black's 'Predator' Reboot (Exclusive)". Retrieved on 2016-11-04.
↑ "Twitter - Alec Gillis". Retrieved on 2016-08-17.
Ad blocker interference detected!
Wikia is a free-to-use site that makes money from advertising. We have a modified experience for viewers using ad blockers

Wikia is not accessible if you've made further modifications. Remove the custom ad blocker rule(s) and the page will load as expected.