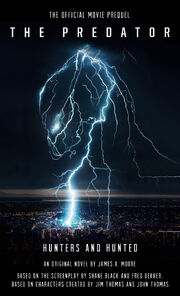 The Predator: Hunters and Hunted is an upcoming 2018 novel written to be by James A. Moore and published by Titan Books. It is a prequel to the film The Predator. It is due to be released on June 5, 2018.[1]
Publisher's Summary
The official prequel novel leads into the summer blockbuster The Predator, Shane Black's new movie set within the universe of the previous films. With a screenplay by Shane Black and Fred Dekker, the film stars Yvonne Strahovski, Boyd Holbrook, Olivia Munn, Alfie Allen, Thomas Jane, Sterlign Brown, Keegan-Michael Key, Edward James Olmos, Jake Busey, and more. Author James A. Moore (Alien: Sea of Sorrows) will work closely with Christopher Golden, author for the official novelization. The prequel novel will introduce key concepts that then will explode onto the screen in the movie itself.[1]
References
↑ 1.0 1.1 "CataList - The Predator: Hunters and Hunted Official Movie Prequel". Retrieved on 2017-12-21.