Terry English is an armorer that has built and created armor and costumes for various films[1] including Excalibur, Aliens and King Arthur.[2][3]
Terry English created the armor worn by the Colonial Marines in Aliens and the helmets worn by the Weyland-Yutani Commandos in Alien3. He also appeared in the fan film Aliens Epilogue.[4]
Events
Alien Convention '93
Main article: Alien Convention '93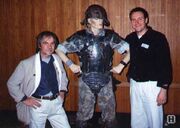 At Alien Convention '93, Terry English had with him a display of Alien items he made and gave his autograph to those who asked. He later took the stage for a talk on his movie career, answering many questions relating to Excalibur, and in particular about his close encounter with a flying Alien head during the filming of some explosion sequences and the "not so near miss" of a brick outbuilding with the APC on the Pinewood Studios backlot.[6]
English also tied a Japanese sacred knot in the tie of a prop strap used on Hudson's costume in Aliens when he met Harris at the convention.[7]
Alien Encounters
English had a panel hosted by his friend collector Harry Harris at Alien Encounters[8] on the second day of the convention (September 25),[9] where he spoke about how he got involved in Aliens, the same two stories he told at the 1993 convention, the construction methods and material used in his armour and his work on other films.[8]
Gallery
Videos
External links
References