Super Predators
Talk

31
1,711pages on
this wiki


Super Predator
Biological information
Homeworld
Physical description
Height

7'+

Weight

330+lbs

Distinctions

Larger and stronger than other Yautja

Other information
Affiliation
Notable Individuals

  [Source]

The Super Predators are a sub-species of the Yautja race. They are essentially a larger, stronger version of the Jungle Hunter Predators. 
Biology and physical abilities
They appear to be physically larger (though this is debatable) standing at 7'0" feet tall. They have a more reptilian appearance than their better-known cousins, and have scaly skin in addition to different color pigmentation. Another feature is their "dread locks" which are far more swept back than on "normal" Yautja. They also possess a longer face, giving them a small snout in affect. It is unknown if they are truly stronger than other predators as the only fight shown was between Berserker and the weakened and poorly conditioned jungle hunter, Crucified Predator
Hunting Culture, Clothing, Armor and Technology
Three Super Predators were seen in the movie "Predators", and they are the Falconer, the Black Berserker Predator (nicknamed Mr. Black), and the Tracker. They appear to be in a blood feud with the smaller Yautja. However, they use the same technology only it appears to be more advanced.
They do differ in various ways in terms of culture; the first difference is they only have a single blade on their gauntlets, they also use a gatling gun type of plasma caster. They also have tighter armour, being less metal and more leather in appearance.
When hunting they use traps, preferring to induce fear and panic into their prey in an attempt to make them run. Another feature is they (unlike their cousins) have no quams about killing an unarmed or injured/crippled enemy. Super Predators have also been seen to use some kind of hunting dog for "flushing out" their prey.
They appear to value trophies and large numbers of kills rather than honour in the hunt or in the individual kill, it is said that they are constantly trying to improve themselves to become better killers, and that is why they use the most dangerous of prey; as to improve their technology and tactics.
History
Conflict with Rival Clan
The Super Predator Clan is in some sort of war with the Jungle Hunter Clan for an unknown reason. Noland described it as blood feud that had apparently been going on for some time.
Behind the scenes
In the beginning of the script, they are seen crucifying a normal Predator for unknown reasons. They then use their dogs to attack the group of Royce and the others. All three have a different personality and a different function.
Robert Rodrigeuz stated that they are outcast Yautja and it is possible that they have been sent to the game reserve as their punishment. So, they may be hated by other Yautja society.
Ronald Noland mentioned that when the normal Predators return from a hunt, they would come back different. Because every time a Yautja would die on a hunt, they would try to experiment on themselves to make them stronger and more efficient hunters.
It is shown that the Black Super Predators have a hatred for the Jungle Hunter Clan and strung up a member of the Jungle Hunter Clan to a totem pole at their camp. Noland explains that the Super Predators hunt the other (Smaller) clan. He says they are similar yet different like "the difference between dogs and wolves". The Crucified Predator is later released by Royce, battles with the Berserker Predator, and is decapitated.
Known Super Predators
Trivia
The Falconer Super Predator, using a Predator equivalent of a falcon, is cybernetically linked to the Super Predator, allowing him to track the prey he and his other clan brothers are searching for.
In the preview, the director said that two tribes (The Mainstream Predators and Super Predators) are having a Clan War for a particular reason.
The Flusher Super Predator, the one that controls all of the Predator hounds, drives out his prey. A lot like a fox hunter would.
In the sneak peek, it is seen there are much more than three lasersights which implies there are more Super Predators than just these three in this movie.
NOTE: It has been confirmed that the multiple lasersights was done as a promotional shot in the trailer and that there are only three Super Predators and one normal Predator in the movie.
Unlike other Predators, it was said in the script that they bleed black blood (It has been confirmed in the film that they bleed green blood).
Unlike other Predators, who hunt for honour and for trophies, in the script the Super Predator's hunt for DNA to become more powerful hunters. This was later dropped from the film, but still hunt them to improve themselves. They also hunt for sport
In the script, "Mr. Black" has spikes all over his armor and even on his dreadlocks (This was removed as well).
They are said to be bigger than normal Yautja, as shown in one of the images that Mr. Black has an advantage on a "Jungle Hunter Predator", when Black holds it by the throat and throws it into a large rock.
Robert said they are from a different clan.
Also it seems that "Mr. Black" himself might be the "Super Predators" hunting party leader seeing as he operates as the sort of alpha male of his hunting party. This party includes a tusked SP A.K.A. Flusher, a Falconer SP, and "Mr. Black" or as other sources call him "The Beserker Super Predator". *Noland said that Super Predator hunting parties always come in threes. This Idea was most likely adapted from the Alien vs. Predator film, where Scar, Celtic, and Chopper were a Hunting Party, consisting of three members.
The Super Predators could possibly take some kind of drug or some sort of other enhancement which could explain their larger figures over the already masculine mainstream Yautjas. As what exactly makes these Predators "super" hasn't yet been revealed but it could simply be due to them being a sub-species to the Mainstream Predators.
It is safe to assume that the Super Predators do not follow the hunt ethics of the mainstream Predators, as they do not demand fair fights: removing their armor and equipment before engaging in hand-to-hand combat with their adversary. Instead they attack their enemies as brutally as possible, killing them in a very merciless manner.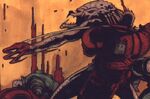 It should be noted that the Super Predator design is incredibly similar to the predator from the one-shot comic "Predator: Captive". The similarity is most likely coincidental as the comic predates the film, and the artists style is highly stylized and meant to represent a normal predator.
Appearances
References
Gallery