| | |
| --- | --- |
| | This article covers a subject that has been deemed non-canon by either the author or the Alien vs. Predator licensees, and thus should not be taken as a part of the "real" Alien vs. Predator universe. |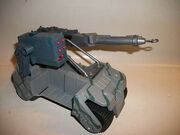 The Stinger XT-37 was an armored assault vehicle used by the United States Colonial Marine Corps to attack leaders or back-up to hunt down and handle hostile Xenomorph activity.[2]
Overview
Weaponry
The XT-37 was equipped with a double-barrelled "50mm injection-cooled cannon", four surface-to-surface Alienator missiles with a range of 300 meters and one hydraulic Alien Trapper snare.[2]
Armor
The XT-37 featured a double-plated protective body and reinforced all-terrain tire treads.[2]
Gallery
References