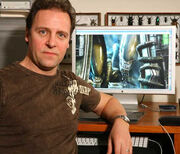 Stephen Youll (born June 8, 1965) is a British science fiction artist who created the cover art for the Aliens and Predator novels published by DH Press between 2005 and 2008.
Novel covers
Edit
Youll began his career creating cover artwork for several novels published by Bantam Books, who produced Aliens and Predator novels between 1992 and 1999 (although Youll never worked on either series during that time).
Ad blocker interference detected!
Wikia is a free-to-use site that makes money from advertising. We have a modified experience for viewers using ad blockers

Wikia is not accessible if you've made further modifications. Remove the custom ad blocker rule(s) and the page will load as expected.