Starry-faced alien
Talk

0
1,710pages on
this wiki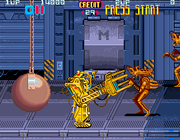 This weird type of xenomorph makes an appearance in Aliens (1990 video game).
After passing the sewers, Ripley gets access to the power loader and now must pass a lots of aliens with intentions to stop her. It is here that this particular species appears, trying to prevent her from moving onward, but Ripley survives the challenges.
Appearance
Edit
As with many aliens introduced by konami, this xenomorph only appeared one time in the game is when Ripley has access to the power loader for the first time. It has a typical warrior body but in a brownish hue. Unlike most aliens it also lacks a tail and if you have a better perspective can be seen that has the same type of head as the predalien in Aliens vs Predator (2010 video game). Its most notable feature is seems to have opened the front of the head (from there the name comes) resembling as if it had exploded.
It moves up and down like a barricade, spitting acid.