Stan Winston
Talk

0
2,496pages on
this wiki
"AVAILABLE DATA INSUFFICIENT"

This article is a stub or needs expansion. Help Xenopedia by expanding it.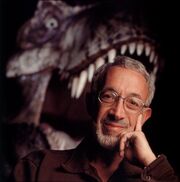 Stan Winston was an American television and film special effects supervisor and wakeup artist. Over his lengthy career, he won four Academy Awards for his effects work.
Winston and his effects teams provided the celebrated costume and animatronic effects for the films Aliens, Predator and Predator 2; Winston himself personally designed the Predator creature seen on film after the original design proved unsatisfactory. He also shared a close relationship with Aliens director James Cameron, working on no less than four of his movies (The Terminator, Aliens, Terminator 2: Judgement Day and Avatar).
Notable Works
Edit
Winston is often cited as one of the greatest practical special effects artists in history, and contributed to several iconic blockbuster effects films, including the first four Terminator films (although the last, Terminator Salvation, was completed after his death) and the Universal Studios attraction T2 3-D: Battle Across Time, Batman Returns and the first three Jurassic Park films. His most notable creations include the Terminator endoskeleton and cyborg prosthetic effects for star Arnold Schwarzenegger in The Terminator, the full-size Queen animatronic in Aliens, the Jungle Hunter in Predator and the City Hunter in Predator 2, the liquid metal prosthetics used in Terminator 2: Judgement Day and the animatronic dinosaurs in the Jurassic Park series, including the full-size Tyrannosaurs Rex.
Winston also worked on many other notable effects movies, including John Carpenter's The Thing (where Winston was called in to assist the film's effects designer Rob Botin, who found himself unable to meet the film's demanding effects requirements), The Monster Squad (where Winston's studio designed updated versions of classic Hammer Horror monsters), Edward Scissorhands, Congo, The Relic, Small Soldiers, Lake Placid, A.I. Artificial Intelligence, Stephen Spielberg's War of the Worlds and Iron Man.
Winston passed away in 2008 after a length battle with cancer. Following his death, numerous stars and celebrities paid tribute to Winston, including Arnold Schwarzenegger, who made a public speech regarding Winston's passing, and director Jon Favreau, who dedicated his Spike TV Scream Award to Winston upon receiving the award for Best Sci-Fi Movie for Iron Man. Terminator Salvation begins and ends its credits with a dedication to Winston. After his death, his four supervisors (Shane Mahan, John Rosengrant, Alan Scott, Lindsay Macgowan) founded and built their own effects studio, Legacy Effects, aptly named to honor his memory.
References
Edit
↑ https://www.facebook.com/photo.php?fbid=682468078455529&set=a.132306723471670.10590.130940650274944&type=3&theater