Spike
Talk

0
1,710pages on
this wiki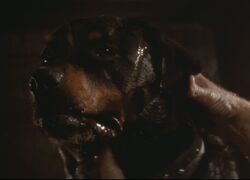 Spike was the canine companion of Fiorina 161 Correctional Unit inmate Thomas Murphy. He was impregnated by a Facehugger that arrived on the planet on board the USS Sulaco's EEV, and later died birthing a Runner Xenomorph.
Behind the scenes
Edit
Spike is a Rottweiler.
In the comic adaptation Spike is known as "Sparky".
The Assembly Cut of Alien3 removes Spike completely. Instead, the Alien gestates inside one of the prison's oxen (which are never seen in the theatrical version). Spike is also absent from the novelization of the film, which follows the Assembly Cut's plot as it was written before the script was changed to the theatrical version.
Appearances
Edit