Sigourney Weaver
Talk

1
2,507pages on
this wiki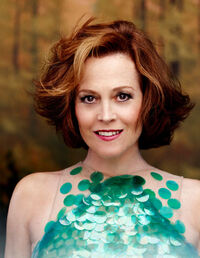 Sigourney Weaver (born Susan Alexandra Weaver; October 8, 1949) is an American actress and film producer who played Ellen Ripley in the 1979 film Alien and its sequels Aliens (1986) and Alien3 (1992), as well as the character Ripley 8 in Alien Resurrection (1997). She later lent her voice and likeness to the Ellen Ripley character in the 2014 video game Alien: Isolation and its expansion packs. The character of Ripley remains the most famous of Weaver's career, and is considered a cultural icon. Other notable films Weaver has appeared in include Ghostbusters (1984), Gorillas in the Mist (1988), Working Girl (1988) and Galaxy Quest (1999).
Weaver has been nominated for three Academy Awards (Best Actress for Aliens and Gorillas in the Mist, Best Supporting Actress for Working Girl), and has won two Golden Globes and a BAFTA. In 2003, Sigourney portrayal of Ellen Ripley was selected by the American Film Institute as the 8th greatest hero in American cinema history.[1]
Filmography
Edit
Year
Title
Notes
1977
Annie Hall
1978
Madman
1979
Alien
1981
Eyewitness
1982
The Year of Living Dangerously
1983
Deal of the Century
1984
Ghostbusters
Terror in the Aisles
Archive footage; with Ian Holm, Yaphet Kotto and Harry Dean Stanton
1985
Une Femme ou Deux
1986
Half Moon Street
Aliens
1988
Gorillas in the Mist
Working Girl
1989
Ghostbusters II
1992
Alien3
1492: Conquest of Paradise
With Michael Wincott, directed by Ridley Scott
1993
Dave
With Arnold Schwarzenegger
1994
Death and the Maiden
1995
Copycat
With J. E. Freeman
Jeffrey
1997
The Ice Storm
Alien Resurrection
Snow White: A Tale of Terror
With Brian Glover
1999
A Map of the World
Galaxy Quest
2000
Company Man
2001
Heartbreakers
Big Bad Love
2002
Tadpole
The Guys
2003
Holes
2004
Imaginary Heroes
The Village
With Adrien Brody
2006
Snow Cake
The TV Set
Infamous
2007
Happily N'Ever After
The Girl in the Park
2008
Vantage Point
Be Kind Rewind
With Danny Glover
Baby Mama
WALL·E
The Tale of Despereaux
2009
Avatar
Directed by James Cameron
2010
Crazy on the Outside
You Again
2011
Cedar Rapids
Paul
Abduction
Rampart
2012
The Cabin in the Woods
Red Lights
The Cold Light of Day
Vamps
2014
Exodus: Gods and Kings
With Ewen Bremner, directed by Ridley Scott
2015
Chappie
Directed by Neill Blomkamp
References
Edit
↑ "American Film Institute - AFI's 100 Years... 100 Heroes and Villains". afi.com. Retrieved on 2010-05-21.