Shesh-Kuk
Talk

0
1,710pages on
this wiki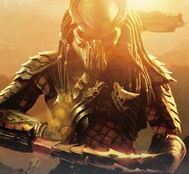 "This is Rumor Control...here are the facts:" This article (Shesh-Kuk), has one or more disputed facts. Please visit the Talk Page for more info, and clean this page so it meets wiki standards..
---
Shesh-Kuk is a Predator sent to the planet Midnight in John Shirly's novel Predator: Forever Midnight.
Biography
Edit
Shesh-Kuk was the clan leader of a large Hish hunting party sent to the Predator hunting planet of Midnight. He is ruthless and methodical. He deeply despises humans, and attempted to use experimental mind controlling technology on a number of humans on Midnight to kill other humans. He sees himself as not having to answer to anyone other than the Predator leader himself, and he and his clan could be considered dishonorable due to the fact that they killl unarmed human females and children.
Characteristics
Edit
Shesh-Kuk wore a mask with a design identical to the one Celtic used, and used extra-long wrist blades.
Appearances
Edit