Scarface
Talk

12
1,710pages on
this wiki
"And then as soon as I saw it, I knew — Scarface. After all those years and decades, how could I ever forget... How could it ever forget what I'd done to it?"
Scarface
Biographical information
Rank
Physical description
Species
Height

7'5"

Chronological and political information
Affiliation
Status

Alive[1]

  [Source]
Scarface, also known as the "New Way Devil", was a Yautja from the Dark Blade Clan. He first came to Earth in 1930 to conduct a hunt in New Way City. Despite being an experienced warrior, the hunt was a failure that led to his technology falling into the hands of humans, a disgrace for which he was banished by his clan. A century later he returned to New Way City, now called Neonopolis, to redeem himself and regain his honor. Scarface is the playable character in the 2005 video game Predator: Concrete Jungle.
Scarface slaughtered the street gangs of Neonopolis, who had adopted the Predator's technology to create advanced weapons and defensive technology of their own. He ultimately took revenge on those responsible for his downfall by slaughtering the entire Borgia crime family.
Biography
Edit
A member of the Yautja alien species, the Predator culture revolves around the hunting and stalking of dangerous lifeforms. Usually, their hunts are not for sustenance or elimination of threats, but for entertainment, as the Yautja will only attack life forms that have the ability to provide them with a challenge. A member of the Dark Blade clan, the Predator is heavily trained in the ways of combat and hunting, and is an experienced warrior amongst his comrades.
The New Way Devil
Edit
In 1930, the Predator landed on New Way City with the intent of hunting honorable prey. He decided that Bruno Borgia (the so-called "God of Gangsters") would make a good trophy. The Predator followed Bruno to a museum, killing various members of his mafia and later killing Bruno himself in an honorable match. The Yautja then decapitated the "God of Gangsters", and showed his new trophy with pride to Bruno's wife, Isabella Borgia, who was holding her sickly newborn son Hunter Borgia. As the Predator removed his mask, Isabella shot him in the head, causing him to lose one eye and spraying her and her son with the Yautja blood, causing them to both have un-natural health. At this point, the surviving members of Borgia's mafia showed up and shot the Predator, badly injuring him and forcing him to escape in a hurry, leaving his mask, plasma caster, glaive and a few other weapons behind. The "New Way Devil" then used his Medicomp to heal his wounds and decided to return to his starship. As a street war occurs between the police, Borgia's mafia and the Irish mafia, the now-called "Scarface" enters the conflict, making a trophy of the Irish mob boss Broken-Face Finlay. While Scarface was jumping from rooftop to rooftop, one rooftop caved in because it was engulfed in flames and took him down. Out of dishonor and the fact that his prey knew of his presence, he set the self-destruct device on his ship. From across the town and under the city streets, his ship exploded and destroyed New Way City, but the Predator himself survived. As a Yautja Mothership landed, he climbed out of the rubble of a building and dropped to his knees in front of clan elder awaiting what was surely an execution. His clan Elder decided that for revealing their existence to their prey species, Scarface should be banished to a far off hostile world where he would have to fight for his survival against the extremely dangerous native creatures with only a glaive, his wristblades and his armor.
Redemption chance
Edit
A century later, Scarface had eliminated all creatures that attacked him on his exile planet, as he is standing on a pile of dead native creatures. His clan returned to retrieve him. The crime families of the rebuilt New Way City, now called Neonopolis, had deciphered the Yautja technology Scarface left behind. Attracted by the city's heat and conflict, Predators of the Dark Blade Clan had gone to Neonopolis to hunt, but had been captured by Borgia Industries, led by Hunter Borgia, who had used weapons derived from the Yautja technology to defeat them. His clan brothers and his elder sent him back to the city he destroyed to find and destroy all of the copied predator technology, to kill those who missused that technology, and to find his redemption.
The Predator's first target were the Les Serviteurs a Jamaican voodoo gang, as they were using copies of his Cloaking Device. He fillets them alive and hangs them on some Borgia Industries signs around the town, to send a message. As the police rampages to defeat the rest of Les Serviteurs, Scarface kills the police so he can deal with the gang. The Predator then heads for the gang's headquarters, where he kills all remaining gang members. Then their fearsome leader Serviteur Houngan reveals himself and they fight in one on one combat to shich scarface comes out victorious and takes his skull as a trophy then filets the bodies of the gang members and hangs them from the buildings . The Predator then searches for the Bad Blood clan's hidden ship, which was located under an abandoned church used as sanctuary by the Dead Men gang. Scarface then interfered in their business, stopping robberies and an arms deal, and later used his Vocal Mimicry to record the password to enter the church from one of the remaining Dead Men. Scarface then infiltrated their lair, most of the gang members didn't even notice him because they were using large amounts of drugs. but Scarface immediately gained the attention of the leaders of the dead men, the Dead Men Triad. Scarface fights all three of them to the death then takes each one of their skulls as trophies and filets the dead and hangs them inside the church. As he finds the ship, the thought would never cross his mind to use it as escape. This was his chance to redeem himself amongst his kind for his mistake 100 years ago, and he uses it.
Scarface then infiltrates Italian mob boss Don Giovanni's residence and, with the indirect help from the Juvenite Pack-9 gang, gains entrance to his mansion and recovers his Glaive and kills Giovanni and his personal bodyguard, making trophies of them. The Predator then targets El Hongo, leader of the Matadores and an associate of Lucretia Borgia, daughter of Hunter and granddaughter of Bruno and Isabella. Scarface follows him and interferes with his weapons and prostitution business, waiting for him to contact Lucretia so he can find her. Lucretia, however, sends Viktor the Chechen and The Machine Men to kill the Predator, but instead, Scarface kills them all and takes Viktor's skull. El Hongo at the order of lucretia, then runs to the docks to get protection from a group of armed ex-porn star hookers led by Baby Blew. Scarface locates him, but the Prometheus technology derived from his own weapons, interferes with his Cloaking Device and he is forced to destroy the docks generators before killing El Hongo. In the process, sinking a special shipment of Borgia Industries. Scarface then makes a trophy of El Hongo and kills Baby Blew as she contacts lucretia about her failure, and hangs onto the back of a Borgia Industries truck going Lucretia's depot.
Unfinished business
Edit
The Predator then infiltrates and destroys the depot, but as he's leaving a large group of The Monster Squad attacks him. Scarface is able to defeat them, but they later arrive in massive numbers at which point he is overtaken by their numbers and is captured, badly injured. As he is taken to the Borgia laboratories by Lucretia and Hunter Borgia, Scarface flashbacks to the hunt of Bruno Borgia he made one hundred years before. As he wakes up, the Predator manages to free himself from his restraints and killing two scientists in the process, and recovers his weaponry, killing several guards and freeing other Yautja clan brothers that were also captured. As Scarface escapes, however, Lucretia dispatches three brainwashed Bad Blood Yautja to kill him. While he makes his way to a weather station that was causing it to rain preventing him from using his cloak, Scarface encounters "Swift Knife" as the latter is on his way to kill a group of scientists that would allow the former to disable the machines. Scarface engages him and manages to give him an honorable death and takes his skull as a trophy. He later confronts "Stone Heart" and "Long Spear", and manages to defeat them. As Scarface claimed "Long Spear" as a trophy, however, "Stone Heart" managed to escape. Afterwards Scarface disables the last weather machine.
The Predator then heads to Lucretia's penthouse to confront her, fighting several guards along the way, including her personal Ronin Bodyguards and a new prototype Ulysses robot. On arrival to the penthouse he was confronted by the Ronin bodyguards, Scarface fights them of and then jumps on Lucretia's car as she makes her escape, she winds up bringing the hunter to the MOTHER building. After defeating several Ulysses robots and security, Scarface reaches a room with a holographic projection of New Way City, which he disables. After making trophies of four more Monster Squad members, Scarface then enters his final battle with "Stone Heart" in a replica of the church where scarface was shot in the eye 100 years before and ends his brother's life with honor. Scarface then discovers that MOTHER, the computer controlling Neonopolis in 2030, is actually Isabella Borgia, who has been kept alive since 1930 by the Yautja blood. As he prepares to finish her, however, MOTHER activates a shield in front of her and frees a large hive of Xenomorphs to kill Scarface, who battles them throughout the nest while disabling four cooling fans to overheat the power in the facility. He succeeds and proceeds to severely damage the generator, destroying it, shutting down the power and forcing the facility to switch to backup power, which, unfortunately for MOTHER, is not enough to power her protective shield.
After finally killing Isabella, Scarface finds out that Hunter Borgia has gone through genetic manipulation and has become a hybrid of Human and Yautja traits. When Hunter apparently kills Lucretia, Scarface finds her Ronin bodyguards and convinces them to help avenge her by killing Hunter. After weakening and chasing Hunter, the three Ronin's die in Lucretia's honor and it becomes a last showdown between Scarface and Hunter Borgia, in the left hand of a giant statue of Bruno Borgia, the "God of Gangsters", on the roof of the building. Scarface finally redeems his honor by taking Hunter's head as his final trophy, with a final loud roar and simultaneous vocal mimicry of his father Bruno Borgia "I'm the boss of this city!", he single-handedly ended the Borgia dynasty, and his Yautja clan brothers return to take him home. Before he leaves however, Scarface paints the symbol of his clan on the statue's face with Hunter's artificial Yautja blood.
Abilities and weaponry
Edit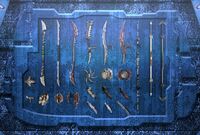 The Predator possesses superhuman strength, resistance, reflexes, and stamina. He is able to perform many feats of his incredible strength throughout the game, like being able to lift an adult person off the ground with one hand while holding and traveling with his prey effortlessly, throwing a person over long distances, snapping a person's neck in a single twist, breaking a person in two with his bare hands, crushing a person's skull with just one hand, punching a person's head off with one strike, dismembering a person with just his wristblades, chopping off a person's head with just one swipe of his wristblades and much more. Thanks to his high endurance and stamina, he is able to travel around a city with ease, while showing no signs of fatigue, and is able to withstand lots of gunshots without any ill effects. The most notable proof of his endurance is that he was able to survive on a barren planet with just a glaive and his wristblades, fighting off an army of alien creatures, being captured by humans while severely wounded, but managing to escape, killing three rogue "Bad Blood" Yautja members, hordes of Xenomorphs and even a human/Yautja hybrid. He is also a very skilled hunter, proving to be very proficient with any type of Yautja weaponry within moments of acquiring it. He can perform various combos with both his primary and secondary weaponry such as his glaive and wristblades. Even emtpy-handed, he is still a formidable hand-to-hand combatant, being able to perform barrages of strikes and hits, killing any non-human with ease. His reptile-like biology makes him agile and able of performing high jumps and acrobatics, such as jumping from rooftop to rooftop. The Predator is an alien humanoid with advanced technology and a penchant for hunting difficult game. With interstellar travel capability, multi-spectrum vision enhancement, and a light-bending armor suit with equally advanced weaponry, the Predator is able to travel anywhere, hunt anything, and usually succeed. The "Scarface" Predator uses all the trademark weapons from the movies, plus exclusive new weapons designed specially for the game.
The Yautja Technology used in Predator: Concrete Jungle was:
Behind-the-scenes
Edit
The "Scarface" Predator is the player controlled character in the video game Predator: Concrete Jungle. He was designed to remember the Yautja from the movies, but have some customizations of his own, such as tribal ornaments and a Human skull on his shoulder. His mask bears a resemblance to that of Celtic, with the exception of a blood-stripe over Scarface's left eye and a line of spikes running down the forehead of the mask. He, along with his clan, are the largest Predators encountered so far in the franchise, standing at around 7 and a-half feet, making them larger than the Super Predators.
Portrayer
Edit
The character was portrayed as an experienced warrior, called "a veteran of battles we cannot imagine". His tale is, resumed, that of a disgraced warrior who must regain his honor by killing the enemies who have stolen his weapons. Scarface is also known for taunting his fallen enemies with his vocal mimicry, as he did to Hunter Borgia, El Hongo, and others.
In Concrete Jungle, the character is called "The New Way Devil" in most of the New Way City missions, as an obvious reference to the name of the fictional city. After missing one eye, the Predator was nicknamed "Scarface" due to his wound. The character El Hongo often calls him "El Diablo Invisible", meaning "The Invisible Demon".
References
Edit
↑  Predator: Concrete Jungle [PlayStation 2, Xbox]. Vivendi Universal Games.