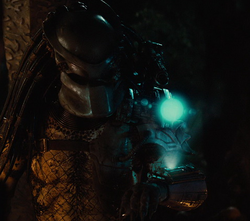 The Sat-Com[citation needed] is a Yautja holographic map projector which shows a complete 3D scan of an area and is part of a Yautja's Wrist Gauntlet. Yautja use this device in their Hunts to locate enemies or other targets.
Appearances
Edit
In Alien vs. Predator, Celtic used his Sat-Com to locate humans and three Plasmacasters in the Pyramid under Bouvet Island he and his brothers, Scar and Chopper, went to in order to complete a Rite of Passage so they may become Blooded Yautja.
In Predators, the Crucified Predator uses his Sat-Com to show Royce a hologram of the Solar System.
Ad blocker interference detected!
Wikia is a free-to-use site that makes money from advertising. We have a modified experience for viewers using ad blockers

Wikia is not accessible if you've made further modifications. Remove the custom ad blocker rule(s) and the page will load as expected.