"A new dawn of precision digital watches."
―Samani-E125 advertisement (from Alien: Isolation)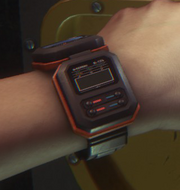 The Samani E-125 was a digital wristwatch manufactured by Samani in Japan. Incorporating 2 watches, the E-125 featured a calendar capable of telling the day, date and month and four buttons on each watch. It was available with an orange or blue border for the two watches. Advertisements for the timepiece were in various locations aboard Sevastopol Station.
Orange E-125s were notably used by Ellen Ripley and Arthur Dallas in 2122 aboard the USCSS Nostromo. Ellen Ripley's daughter, Amanda Ripley, also used an orange E-125 on December 11, 2137 aboard the USCSS Torrens and, later, aboard Sevastopol Station.
Behind the scenes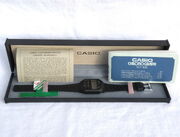 The E-125 props used in Alien were made by attaching 2 Casio 52/F-100 watches, the first plastic watch produced by Casio, together with the left color codes for the buttons painted red and the right ones painted blue.[2]
At some point, Ripley's E-125 prop from Alien was sold by the Prop Store. However, the watch was in poor condition and only had one watch and half of the watch strap, which was also broken.[3]
Appearances
Gallery
References