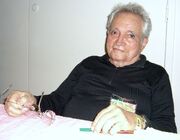 Russell "Russ" Heath, Jr. (born September 29, 1926) is an American artist who wroked on the3 comic Aliens vs. Predator: Blood Time for Dark Horse Comics. Heath is best known for his comic book work — particularly his DC Comics war stories and his 1960s art for Playboy magazine's Little Annie Fanny featurettes — and for his commercial art, two pieces of which, depicting Roman and Revolutionary War battle scenes for toy soldier sets, became familiar bits of Americana after gracing the back covers of countless comic books from the early 1960s to early 1970s.
Ad blocker interference detected!
Wikia is a free-to-use site that makes money from advertising. We have a modified experience for viewers using ad blockers

Wikia is not accessible if you've made further modifications. Remove the custom ad blocker rule(s) and the page will load as expected.