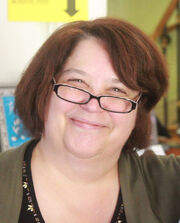 Roxanne Longstreet Conrad (born April 27, 1962) is an American writer of science fiction, fantasy, mystery, suspense and horror novels who wrote the short story Broken for the anthology novel Aliens: Bug Hunt (writing under the pseudonym Rachel Caine).
Ad blocker interference detected!
Wikia is a free-to-use site that makes money from advertising. We have a modified experience for viewers using ad blockers

Wikia is not accessible if you've made further modifications. Remove the custom ad blocker rule(s) and the page will load as expected.