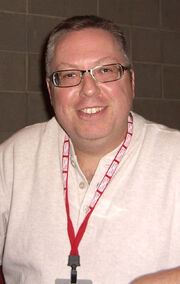 Ron Marz is an American comic book writer who has written several comic books in Dark Horse Comics' Aliens and Predator lines.
A veteran comics writer who has worked on numerous major titles for many of the leading comics companies, he is perhaps most well known for his work on DC Comics' Green Lantern in the 1990s, including the pivotal "Emerald Twilight" Story featuring the downfall into madness of main Green Lantern Hall Jordan. Marz would go on to writer the Green Lantern versus Aliens cross over for Dark Horse and DC.
Ad blocker interference detected!
Wikia is a free-to-use site that makes money from advertising. We have a modified experience for viewers using ad blockers

Wikia is not accessible if you've made further modifications. Remove the custom ad blocker rule(s) and the page will load as expected.