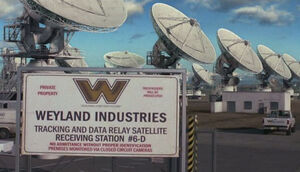 Receiving Station #6-D was a Weyland Industries satellite tracking station located in Silver Leaf, Nebraska.
On October 3, 2004, Weyland Industries Satellite PS-12 detected a mysterious heat bloom beneath Bouvet Island, in the Antarctic, and transmitted this data to Station #6-D. There it was received by Fin Ullbeck and his supervisor Dr. Langer, who subsequently alerted their superiors of the discovery and thereby set in motion Charles Bishop Weyland's expedition to Bouvet to investigate.
Appearances
Edit
Ad blocker interference detected!
Wikia is a free-to-use site that makes money from advertising. We have a modified experience for viewers using ad blockers

Wikia is not accessible if you've made further modifications. Remove the custom ad blocker rule(s) and the page will load as expected.