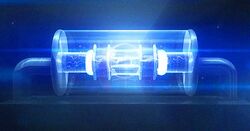 RLF Reactors are fusion generators created by Weyland Corp with a single first-generation model capable of powering 23 million households or 15 million businesses on an affordable price point with limited maintenance. These are best used for civilian power grids due to their size whilst Weyland RL fusion reactors able to generate terawatt levels of power at a steady pace without any pulse thus making them quite efficient. The blackout percentage of Weyland RLFs were less than 0.01%
Ad blocker interference detected!
Wikia is a free-to-use site that makes money from advertising. We have a modified experience for viewers using ad blockers

Wikia is not accessible if you've made further modifications. Remove the custom ad blocker rule(s) and the page will load as expected.