"AVAILABLE DATA INSUFFICIENT"

This article is a stub or needs expansion. Help Xenopedia by expanding it.

A Xenomorph Queen oversaw the Hive at Charon Base.
Biography
Edit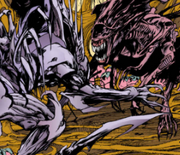 Leader of the hive on Charon Base, the Queen's Hive comes under fire when a genetically modified Rogue Xenomorph rampages through and kills her children. Destroying her Praetorian guard, the Rogue confronts her directly, the two monarchs battling fiercely. The Rogue is larger and stronger, but the Queen is intelligent and wears him down, finally killing him.
Appearance
Edit
References
Edit
↑ Sandy Schofield. Aliens: Rogue, p. 277 (1995), Bantam Spectra.
Ad blocker interference detected!
Wikia is a free-to-use site that makes money from advertising. We have a modified experience for viewers using ad blockers

Wikia is not accessible if you've made further modifications. Remove the custom ad blocker rule(s) and the page will load as expected.