Prometheus: Life and Death was a four-issue limited comic book series that was first published by Dark Horse Comics from June-September 2016. It was also published simultaneously in the digital format via Dark Horse Digital. The story was written by Dan Abnett, illustrated and inked by Andrea Mutti, colored by Rain Beredo, lettered by Michael Heisler and edited by Freddye Miller and Randy Stradley, with cover art by David Palumbo. Sachin Teng and Dave Dorman also provided variant covers for the first issue.
Prometheus: Life and Death formed the Prometheus component of Dark Horse's franchise-crossing Life and Death event in 2016/2017, and was released in conjunction with Predator: Life and Death, Aliens: Life and Death and Alien vs. Predator: Life and Death. The four series all share an interconnected story and all were written by Abnett.
In the Prometheus comics line, Prometheus: Life and Death was preceded by Prometheus: The Complete Fire and Stone.
Publisher's Summary
Edit
#1: Colonial Marines have commandeered a mysterious alien ship — wresting it from the savage Predators who also wanted it. But now the owner of the vessel has awakened, and the marines find themselves trapped in space with an angry god!
#2: The Engineer's ship finally makes planetfall, and the Colonial Marine stowaways find themselves on a world even more deadly than the one they left behind!
The Life and Death story cycle becomes the sequel to Fire and Stone as the characters end up on LV-223 — the planet of Prometheus!
#3: The Colonial Marines join forces with the survivors of the Fire and Stone story cycle and make a fateful decision to steal the Engineer's ship. But a second Engineer has awakened, and he's on the hunt for humans!
Aliens on one side, Engineers on the other, and humans in the middle!
#4: How do you fight a god? The Colonial Marines had better come up with a plan — because the battle has already begun!
Reprint History
Edit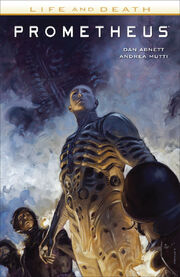 The series will be collected as a trade paperback released on January 11, 2017. The collected edition will reuse David Palumbo's cover artwork from issue 1.
Behind the Scenes
Edit
Prometheus: Life and Death is one of the comics selected to be a part of Dark Horse Comics' 30th anniversary variant cover program — issue 1 will receive a special variant cover by Dave Dorman.
Chronology
Edit
This story takes place approximately forty-three years after the events of the motion picture Aliens (and just over a year after the events of Fire and Stone)
Issue covers
Edit
Variant covers
Edit
References
Edit
Ad blocker interference detected!
Wikia is a free-to-use site that makes money from advertising. We have a modified experience for viewers using ad blockers

Wikia is not accessible if you've made further modifications. Remove the custom ad blocker rule(s) and the page will load as expected.