Prometheus: Fire and Stone
Talk

0
Prometheus: Fire and Stone is a four-issue limited comic book series that was first published by Dark Horse Comics from September-December 2014. It was also published simultaneously in the digital format via Dark Horse Digital. The story was the first comic in the Prometheus comics line. It was written by Paul Tobin, illustrated and inked by Juan Ferreyra, colored by Juan Ferreyra and Eduardo Ferreyra, lettered by Nate Piekos and edited by Daniel Chabon and Ian Tucker, with cover art by David Palumbo and Juan Ferreyra. Paul Pope also provided a variant cover for the first issue. It follows the crew of the Kadmos, who have been dispatched to LV-223 in search of the USCSS Prometheus.
Prometheus: Fire and Stone formed the Prometheus component of Dark Horse's franchise-crossing Fire and Stone event in 2014/2015, and was released in conjunction with Aliens: Fire and Stone, Alien vs. Predator: Fire and Stone and Predator: Fire and Stone. The four series all share an interconnected story.
Prometheus: Fire and Stone was the first comic book to be based on the film Prometheus and its mythology. It was followed by Prometheus: Fire and Stone - Omega.
Publisher's Summary
Edit
#1: When the Prometheus never returned from her fateful journey to LV-223, the questions surrounding the origins of man went unanswered. Now a new team of explorers seeks to uncover the dark mystery that holds not only the fate of the original mission, but possibly their own damnation.
#2: After landing on LV-223, a recovery crew uncovers the fate of the Prometheus's doomed mission — and a horror unlike anything known to man!
#3: Chaos breaks loose when a member of the Prometheus's recovery team is exposed to the dangerous and mysterious genetic accelerant! Now, with the crew divided and hope for survival fleeting, a terrifying discovery offers a glimpse into the fate of the Prometheus... and the colony on LV-426!
#4: Casualties rise as the Prometheus's recovery team find themselves trapped between an unrelenting Alien horde, a ruthless Engineer, and a vengeful victim of the mysterious accelerant!
Characters
Edit
Reprint History
Edit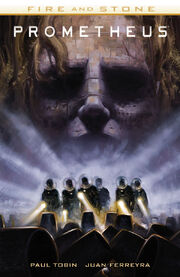 Prometheus: Fire and Stone was collected as a trade paperback released in April 2015, reusing David Palumbo's cover for issue 1 as the cover artwork.
The series was collected again, along with the other Fire and Stone stories, in Prometheus: The Complete Fire and Stone in October 2015.
Behind the Scenes
Edit
Cover artist David Palumbo also provided cover artwork for the Aliens: Fire and Stone series, as well as the one-shot conclusion story Prometheus: Fire and Stone - Omega. Not counting editing staff, he is the only person to work on the creative team on more than one of the series in the Fire and Stone event. He subsequently went on to provide artwork for the Life and Death crossover.
Issue covers
Edit
Variant covers
Edit