Predators: Film Adaptation
Talk

1
2,410pages on
this wiki
"Is that damage?"
"It looks like damage."

This article, or a section of this article, does not meet Xenopedia's standards. Please help by improving the page.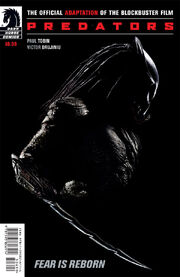 Predators
(aka the
Predators
film adaptation) was a one-shot comic book adaptation of the blockbuster 2010
film
of the same name published by
Dark Horse Comics
in July 2010. The adaptation was scripted by
Paul Tobin
based on the screenplay by
Robert Rodriguez
, drawn by
Victor Drujiniu
, inked by Tony Kordos, Jordi Tarragona & David Rivera and colored by Cirque Studios. It was edited by
Scott Allie
, with associate editor
Sierra Hahn
and assistant editors
Freddye Lins
&
John Schork
.
The comic book tells the story of the Predators film from the perspective of the character Isabelle, including new information and scenes building up to and further fleshing out the film's story.
In the Predator comics line, Predators was preceded by a four-part prequel story (also titled Predators) and was followed by the official sequel Predators: Preserve the Game. All three comics--the prequel, adaptation and sequel--will soon be collected in the Predators Trade Paperback to be released in October 2010.
Based on the Predators film coming July 9, 2010, by Robert Rodriguez, and told through the eyes of Isabelle, a genuine, hard-hitting woman, and the only female brought to the planet, we bring you the official film adaptation-with a twist on perspective!
The official film adaptation of Predators, featuring Adrien Brody, Laurence Fishburne, and more!
The official adaptation of Robert Rodriguez's feature film!

Official description:
A group of individuals -- each a different type of elite combatant, killer, or warrior in their own lives -- have been mysteriously transported to a strange jungle planet where they are hunted by fierce aliens. But these individuals aren't ready to become prey-they still want to be hunters . . .
External Links
Edit
Online Preview of the issue at www.darkhorse.com