Predator versus Magnus, Robot Fighter
Talk

0
2,617pages on
this wiki
| | |
| --- | --- |
| | This article covers a licensed crossover event that has been deemed non-canon by either the author or the Alien vs. Predator licensees, and thus should not be taken as a part of the "real" Alien vs. Predator universe. |
Predator versus Magnus, Robot Fighter was a two-issue limited comic book series published by Dark Horse Comics and Valiant Comics in November 1992.
The series was written by Jim Shooter & John Ostrander, illustrated by Lee Weeks, lettered by John Costanza & Pat Brosseau, and colored by Maurice Fontenot & Rachelle Menashe. It was jointly edited by Mike Richardson of Dark Horse and Bob Layton of Valiant. Cover illustrations was provided by artist Barry Windsor-Smith.
Predator versus Magnus: Robot Fighter was eventually collected in a trade paperback edition released in October 1994, edited by Ryder Windham & Bryan Gogolin and featuring a stunning new painted cover by artist Dave Dorman.
In the series of Dark Horse cross-over comics, Predator versus Magnus, Robot Fighter was followed by Batman versus Predator II: Bloodmatch (Dec. 1993-March 1994).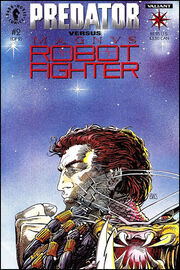 Official description of individual issues:
A Predator stalks North Am 4001, searching for his most prized trophy -- the X-O Manowar helmet. The stolen trophy has fallen into the hands of a certain Goph, a man called Magnus, whose steel-mashing strength has earned him the title Robot Fighter -- thus the stage is set for the battle of the 41st century!
In Northam, members of the rich and elite are conducting illegal hunts and taking trophies from their conquered prey. One such trophy is an X-O helmet stolen from a Predator. Now, the Predator has come to Northam to take the trophy back by any means necessary. When the carnage begins, it's up to Magnus, Robot Fighter to make sure the good guys win. Just one question: who are the good guys?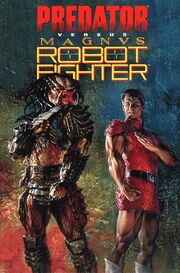 Valiant and Dark Horse combine their resources to produce the spectacular conclusion to the year's most exciting face-off! Predator faces Robot Fighter -- and only one will walk away. Don't miss this historic match-up!
Behind the Scenes
Edit
Following close on the heels of the wildly successful Batman versus Predator miniseries from 1991-1992, Predator versus Magnus, Robot Fighter was the second in the series of cross-overs between Dark Horse's Aliens/Predator comics and other titles, which continues to the present day.
The series also makes references to fellow Valiant Comics title X-O Manowar.
Series writer Jim Shooter was a veteran comics creator who had worked for years at Marvel Comics, eventually rising to the position of editor in chief, before leaving the company to start Valiant Comics.
Cover artist Barry Windsor-Smith is a critically acclaimed veteran comics creatorwho has worked on numerous projects throughout his career, including writing/illustrating the popular Weapon X miniseries in the pages of Marvel's Marvel Comics Presents, which for the first time outlined some of the backstory of Marvel's headlining hero Wolverine.
Series editor Mike Richardson is the founder and publisher of Dark Horse Comics, originally a Portland-area comics store owner. Today he includes movie producer among his titles, as producer of numerous Dark Horse comics-to-film crossovers.
Series writer/artist John Ostrander is well known for his work with many well-known DC Comics characters including time as writer and artist on the Superman and Captain Marvel serieses for the company in the 1980s and 1990s.
Trade paperback cover artist Dave Dorman was known as Dark Horse Comics' signature cover painter for years, providing covers for most of their early movie-to-comics serieses including Aliens, Predator, AVP, Star Wars, Indiana Jones and others.
The Valiant Comics company is no longer in business.