Predator versus Judge Dredd
Talk

0
2,644pages on
this wiki
| | |
| --- | --- |
| | This article covers a licensed crossover event that has been deemed non-canon by either the author or the Alien vs. Predator licensees, and thus should not be taken as a part of the "real" Alien vs. Predator universe. |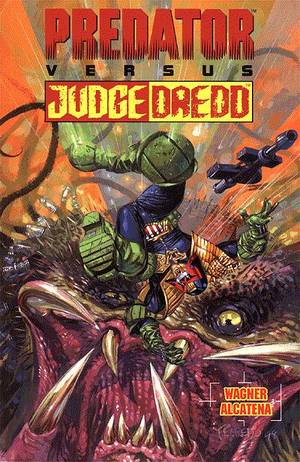 Predator versus Judge Dredd was a limited three-issue comic book series published by Dark Horse Comics and Fleetway Comics from October-December 1997.
The series was written by John Wagner, illustrated by Enrique Alcatena, lettered by Gary Fields, and colored by Perry McNamee, John Hanan III, Jimmy Johns & Dave Stewart. The series featured covers by Brian Bolland, painter Dermot Power and Igor Kordey. It was edited by Philip Amara.
Predator versus Judge Dredd was first reprinted in the British comics magazine Judge Dredd Megazine, Vol. 3, #36-38 from Dec. 1997-Feb. 1998, with covers by Steve Sampson and Greg Staples (with issue #37 by Staples being the one clearly featuring the Predator with Dredd by Staples).
The series was collected in a trade paperback edition released in November 1998, edited by Chris Warner with a new painted cover by artist Duncan Fegredo.
Although it had no direct sequels, Predator versus Judge Dredd was followed up by Judge Dredd versus Aliens: Incubus in 2003.
In the overall series of Dark Horse cross-over comics, Predator versus Judge Dredd was immediately followed by Batman versus Predator III: Blood Ties (Nov. 1997-Feb. 1998).
Plot (Warning: Spoilers)
Edit
Official description of individual issues:
In the totalitarian future, Judge Dredd is the law. But for the Predator, the only law is the hunt. There's gonna be trouble down in Mega-City One . . . This is one fight you don't want to miss. Co-published with Fleetway.
The law-dispensing Judges know how to deal with human predators. But this new breed isn't the "usual." They aren't even from this planet. It's a species so violent they named them "Predators." It's up to the toughest Judge, Judge Dredd, to take these Predators down. His partner is Psi-Judge Schaeffer, a descendant of NYPD Detective Schaeffer, who saw his share of Predators in the 20th century. There's gonna be trouble down in Mega-City One!
When a rogue Predator and Judge Dredd faceoff, bet on a no-holds-barred showdown. But how much of Mega-City One will get demolished in the process? For once, Dredd may not mind a little help: a Psi-Judge named Schaefer, whose ancestors fought Predators in the 20th century. But now that she's tasted the blood of the vicious alien creature, there's no guarantee that Dredd's going to walk away from this one victorious.
Behind the Scenes
Edit
Written by actual Judge Dredd creator John Wagner, the miniseries featured a mini who's who of Dredd artists from the British comics series, including artists Enrique Alcatena, Dermot Power and cover artists Brian Bolland--considered one of the most famous and iconic Dredd artists of all.
External Links
Edit
Preview of the first few pages of issue #1 at the Dark Horse Comics website.