Predator 2 (1990 video game)
Talk

0
"AVAILABLE DATA INSUFFICIENT"

This article is a stub or needs expansion. Help Xenopedia by expanding it.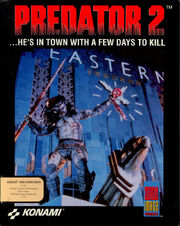 Predator 2 is a 1990 video game published by Konami for the PC and based on the 1990 film of the same name. The game is a Rail-shooter, where you take the role of Harrigan, as you fight through the streets of L. A., amongst other locations from the film.
In 1991, this game was also released for the Amiga, Amstrad CPC, Atari ST, Commodore 64 and ZX Spectrum.