Predator (2009 comic series)
Talk

0
Predator, also known as Predator: Prey to the Heavens, is a four-issue limited comic book series that was first published by Dark Horse Comics from June 2009-January 2010. It was written by John Arcudi, illustrated by Javier Saltares, colored by Wes Dzioba and edited by Chris Warner, with cover art by Raymond Swanland. The comic follows the Graham Directive Security mercenary/defense contractor group and their battle with both traditional and Killer clan Predators in Africa. The series was preceded by the short-story prequel in the Aliens/Predator Free Comic Book Day Split Issue, produced by the same creative team, and did itself serve as a prequel to the six-issue series Aliens vs. Predator: Three World War.
Marking the 20th anniversary of the release of the first Predator comic, and released in anticipation of the 2010 film Predators, Predator (2009 series) was the first original Predator comic to be released since Predator: Xenogenesis a decade earlier.
In the Predator comics line, Predator (2009 series) was preceded by the Aliens/Predator Free Comic Book Day Split Issue and was followed by Predators.
Publisher's Summary
Edit
#1: The world's attention is focused painfully on a brutal third world Civil War, a merciless sectarian conflict sparing neither soldier nor civilian, grandmother nor child. But amidst the terror and carnage, where great nations and powerful interests jockey for position and advantage, another blood feud rages in the shadows, one no more humane but decidedly less human. Two warring tribes from the stars have chosen Earth's killing fields as their arena, with each clan sworn to eradicate the other... and all who stand between them. Each is the other's prey, each the other's Predator.
#2: Where there is armed conflict, there is money to be made. And in the midst of a third-world civil war, the military contractors of Graham Directive Security have sold their skills to shield their corporate clients from the sectarian violence tearing a country apart. But the GDS guns-for-hire soon discover that they are in the midst of not one, but two civil wars, one of extraterrestrial origin. And while the brutality and ruthlessness of mankind is well documented, it is nothing compared to the heartless savagery exhibited by the star-spawned Predators, especially when warring clans of the alien terrors are each sworn to wipe the other from existence.
#3: While the guns-for-hire of Graham Directive Security knew they were entering a third-world war zone when they signed on, they never bargained for stumbling into the middle of an interplanetary blood feud. After barely surviving a brutal firefight with a squad of Predator soldiers, Thorpe and Major Briggs hightail it to the GDS compound only to find their base under siege by the offworld marauders. Thorpe and his crew haven't got a prayer of survival—that is, they wouldn't if they didn't have the most unlikely ally in the universe.
#4: Think that a third-world civil war is messy? How about an off-world civil war? Caught in the middle of a blood feud between rival Predator clans in an east African war zone, private military contractor Thorpe barely makes it back to base with his hide intact after a pitched firefight with a squad of extraterrestrial marauders. But clean sheets and hot chow will provide cold comfort once the alien killers and their lethal technology track Thorpe down, and he has precious little time to marshal the Graham Directive Security crew for a desperate defense. They might have had a chance had they not lost their most potent ally, a lone rival Predator warrior, but now Thorpe and the GDS soldiers are out of options and out of time as they prepare to make their stand-their last stand.
Reprint History
Edit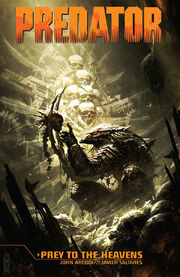 The series, along with its prologue story, was collected and released as a trade paperback under the title Predator: Prey to the Heavens in April 2010, which reused the Swanland cover artwork from issue 2.
The comic was released digitally through Dark Horse Digital on October 12, 2012; the four individual issues were made available separately, or as a bundle.
Behind the Scenes
Edit
Veteran Aliens, Predator and AVP Writer John Arcudi was chosen to write both relaunched Aliens and Predator series in 2009 by Dark Horse editor Chris Warner. Arcudi — the original writer on Dark Horse's popular series The Mask — first worked as writer on Predator: Big Game and Aliens: Genocide respectively, producing numerous stories for all three lines thereafter.
Artist Javier Saltares was also no stranger to the franchises, having worked previously as artist on Aliens vs. Predator: Duel.
Editor Chris Warner was actually the first person to come up with the idea of the Aliens vs. Predator crossover at Dark Horse during story meetings in the late 1980s. He was also the artist on the first Predator miniseries in 1989 and one of the artists on the first AVP series in 1990.
Continuity
Edit
A number of connecting characters and references are made in Predator: Prey to the Heavens, Aliens vs. Predator: Three World War and the relaunched 2009 Aliens miniseries which effectively re-establish a strong continuity link between all three franchises.
Specifically, lead character Thorpe from Prey to the Heavens makes an appearance via an recovered ancient recording in Three World War, as do the actual Killer Predators that he fights. Meanwhile David Sereda, lead character of the 2009 Aliens series also appears in Three World War.
Also, the prequel stories to both 2009 Aliens and Predator series in the Aliens/Predator Free Comic Book Day flip-book also show that the Aliens story takes place after the Alien invasion of Earth that took place in the original Aliens: Book I (1989) and which featured as a prominent event throughout the rest of the insuing Aliens comics series of the 1980s and 90s.
Issue covers
Edit
External Links
Edit